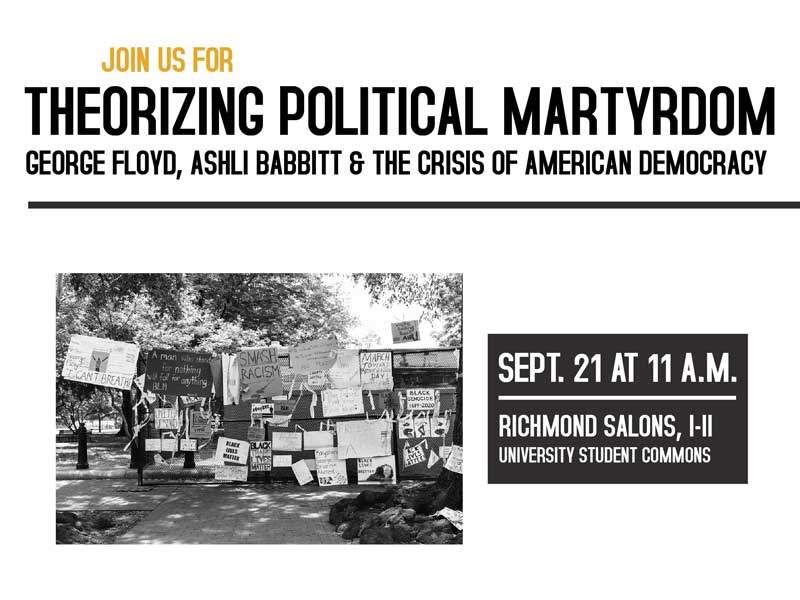 Sept. 6, 2022
Andrew Murphy, Ph.D., formerly of the Department of Political Science presents, "Theorizing Political Martyrdom: George Floyd, Ashli Babbitt, and the Crisis of American Democracy."
Aug. 31, 2022
Seven faculty members were recognized for their commitment to the university and their students' success.
Aug. 30, 2022
Martina Hernandez is the first VCU graduate student to receive a Diversity Specialized Predoctoral to Postdoctoral Advancement in Neuroscience Award, which will fund the remainder of her Ph.D. training and up to four years of postdoctoral research.
Aug. 29, 2022
Program offered through the VCU Health Pauley Heart Center brings students to MCV Campus for rotations and mentored research experience.
Aug. 26, 2022
The annual awards recognize faculty for their teaching, scholarship and service.
Aug. 26, 2022
Santa Muerte, 'the fastest-growing new religious movement in the Americas' with an estimated 12 million followers, has grown in popularity during the pandemic, says VCU professor and author of 'Devoted to Death.'
Aug. 25, 2022
Six hubs attain university-level status, receive VCU research funding.
Aug. 25, 2022
An expert on F. Scott Fitzgerald and The New Yorker magazine, Mangum leaves behind a legacy of kindness and generosity.
Aug. 24, 2022
Moon, a two-time VCU graduate who this summer became the director of the U.S. House of Representatives' Office of Diversity and Inclusion, encourages students to have 'equal parts patience and perseverance' as they embark on their careers.
Aug. 18, 2022
Madeline Doane, who spent a semester in Argentina and hopes to return to work with migrants and Indigenous peoples, is completing a Spanish immersion program as a Kathryn Davis Fellow for Peace.