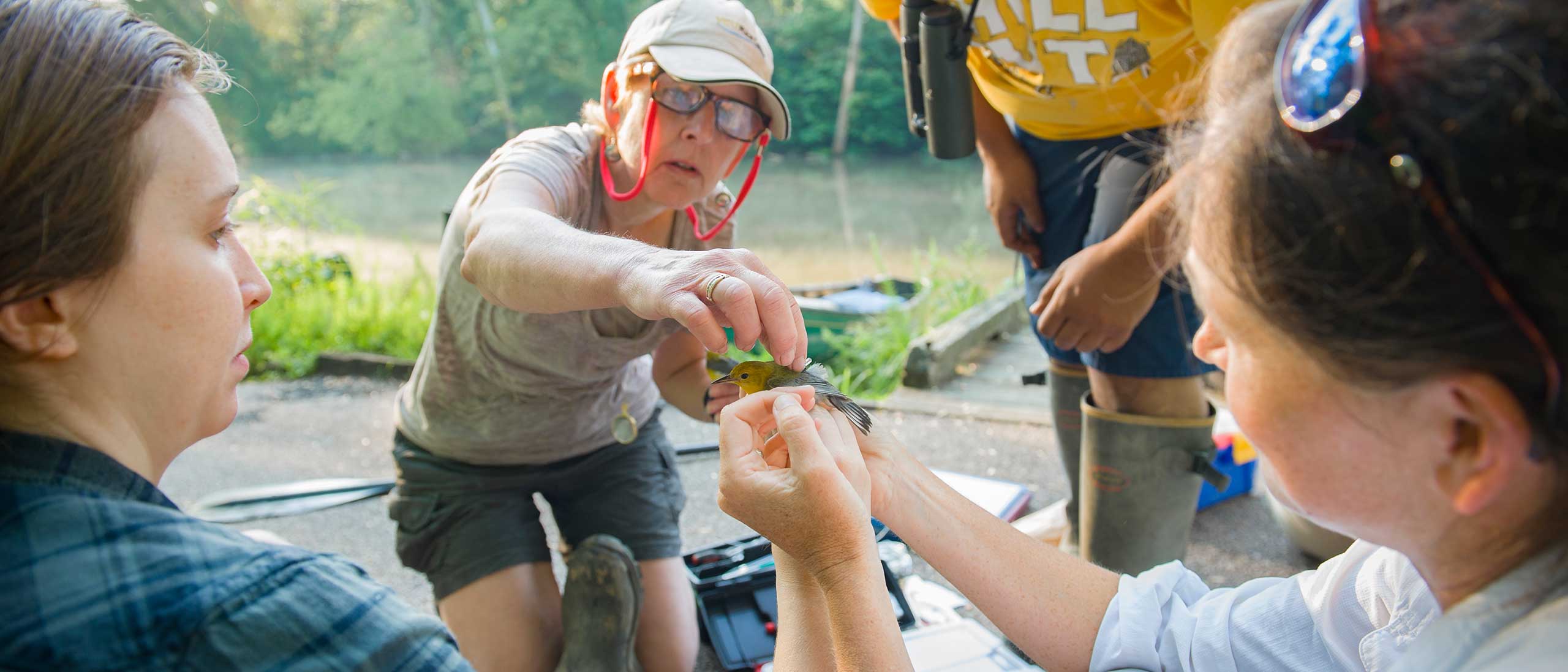 Research
The College of Humanities and Sciences develops and advances nationally recognized student and faculty scholarship, research and creative initiatives committed to addressing challenges in our urban Richmond community and beyond.
We aim to become a leader in integrating meaningful engagement with real-world challenges that support the development of global citizens.
Student Research
We have many faculty who are internationally recognized experts in their fields. In the College of Humanities and Sciences, we prioritize student engagement and interaction with faculty. We don't just want you to help with research, we want you to lead.
The diversity of our research means students can obtain hands-on experience in many different areas in order to find their passion. Many CHS faculty conduct community engaged research, which allows students the opportunity to conduct research that has a meaningful, positive impact on VCU and our Richmond community.
13,671 undergraduates engaged in experiential learning and research in 2019-20. This is what makes learning at VCU special and sets us apart.
Student research in the news:
Sept. 2, 2020
COVID-19 has sparked a 12-fold increase in the remote delivery of mental health care across the U.S.
Prior to the pandemic, psychologists reported performing 7.07% of their clinical work with telepsychology. During the pandemic, that number has soared to 85.53%.
Sept. 1, 2020
Students' plan for at-home COVID-19 testing kit recognized by Clinton Foundation
A team of VCU undergraduates was one of 38 recognized out of 1,400 entries in the COVID-19 Student Action Fund.
July 31, 2020
'I never imagined to be where I am today': VCU student selected for prestigious NIH scholarship
VCU student Syeda Fatima immigrated to the U.S. four years ago. She's now a recipient of the highly competitive NIH Undergraduate Scholarship Program.
July 30, 2020
Student selected for Fulbright UK Summer Institutes
The highly competitive award, funded by the US-UK Fulbright Commission, enables outstanding U.S. students to participate in three- or four-week programs at prestigious universities throughout the United Kingdom.
July 21, 2020
VCU biology major's passion for medicine, science and research leads to prestigious NIH scholarship
Anirban Mahanty is the third VCU undergraduate in four years to receive the highly competitive NIH Undergraduate Scholarship.
July 15, 2020
New study reveals a graphene sheet behaves 'like a mirror' for water molecules
The study led by VCU researchers addresses an important area for medicine, industry and science: Understanding how liquids — mainly water — interact with surfaces.
July 2, 2020
Early marriage may lead to unsafe drinking behavior by those with higher genetic risk of alcohol use
Though previous research has found that marriage protects against risky alcohol use, that protection is not uniform, and getting married early can exacerbate risk for alcohol use among individuals who are genetically predisposed to drink more.
June 8, 2020
VCU English student, a teacher at Richmond's John Marshall High School, digs into the school's past
Sara MacRae's research project for her master's degree is a study of the history of the school and its current site, which was once a smallpox quarantine zone following the Civil War.
May 12, 2020
Not all psychopaths are violent. A new study may explain why some are 'successful' instead.
A new study conducted by VCU researchers sheds light on the mechanisms underlying the formation of "successful" psychopaths.
April 24, 2020
VCU student Desiree Longmire is examining why so few physician assistants focus on gerontology
Desiree Longmire's conversations with her grandparents about their health influenced her decision to become a physician assistant and led to a research project to determine how many physician assistant programs in the U.S. offer a gerontology curriculum.
March 3, 2020
A VCU professor and student are visiting Pacific islands, exploring how they are adapting to the threat of climate change
"People are not planning for out-migration," said Andrea Simonelli, an assistant professor of political science. "They are focused on preserving their way of life for as long as they can."
Feb. 25, 2020
A VCU student's project revealed an ancient Egyptian mummy's face. It's now on display at a museum.
The mummy, Nesiur, was "digitally unwrapped" using CT scans. VCU student Mason Smith, along with a VCU forensic anthropologist, used the data to generate a facial approximation.
Nov. 25, 2019
Student turns EMT experience into research opportunity
"The research process as an undergraduate has had an instrumental impact on my personal development," Tarek Haggy said. "It's taught me things that no class could and provided early exposure to the professional world."
Sept. 19, 2019
How do people with psychopathic traits control 'dark impulses'? A study finds answers in the brain.
Using neuroimaging technology, a team of researchers has investigated the possibility that "successful" psychopathic individuals have more developed neural structures that promote self-regulation.
Aug. 27, 2019
VCU students' internship will help VDOT better predict oversight costs of local projects
The students — Jessica Cooper, Katrina Gauntt, Dani Jabado and Katherine Werner — are graduate students in the Department of Statistical Sciences and Operations Research.
Aug. 21, 2019
VCU, UR study on spread of gypsy moths amid climate change receives prestigious award
The study received a Royal Entomological Society Award for Best Paper Published in 2017/18 in the journal Physiological Entomology.
Aug. 19, 2019
Student's research leads to DC Comics internship
The research paper Thea Cheuk wrote last spring on the DC Comics character Dick Grayson did more than combine Cheuk's interests in graphic arts and gender studies, it also led to a coveted internship at one of the comic industry's largest publishers.
May 16, 2019
Student's rise as a researcher takes her from law school in Brazil to an NIH lab
Sarah Izabel discovered Virginia Commonwealth University one frigid day when she just wanted to come in from the cold. Bundled up and shivering, she and a friend were walking near VCU in the winter of 2010 when they stumbled upon the University Student Commons and stepped inside to warm up. Izabel and her friend were both from Brazil, and were in the United States to improve their English and explore opportunities in the country. Unfamiliar with the area, they had never heard of VCU and didn't understand what it was, but Izabel found herself immediately drawn to it.
April 30, 2019
What predicts college students' drinking habits? How much they think others are drinking.
A new study by VCU researchers examines students' genetic risk of alcohol use, roommates' drinking habits and the perception of peer drinking.
April 30, 2019
Class of 2019: Entrepreneur and biology graduate driven by a personal mission
Being diagnosed with alopecia areata at age 16 inspired in La'Tila Abbott a passion for health sciences that eventually led her to VCU. Abbott will graduate in May with a biology degree.
April 26, 2019
History grad students' Civil War research will be on display at American Civil War Museum's grand opening
When the new American Civil War Museum at Historic Tredegar officially opens its doors on Saturday, May 4, visitors will have an opportunity to check out new scholarly research conducted by Virginia Commonwealth University history graduate students about the Civil War and how it is remembered.
April 16, 2019
Chemistry and Forensic Science student receives prestigious NSF graduate fellowship
Caitlin Cain, a senior majoring in chemistry and forensic science, has been awarded a National Science Foundation Graduate Research Fellowship, which recognizes and supports outstanding graduate students in science, technology, engineering and mathematics disciplines who are pursuing research-based master's and doctoral degrees.
April 12, 2019
Humanities and Sciences students shine during Research Weeks
As part of Research Weeks (April 5-26), VCU News is highlighting the work of undergraduates whose work was made possible by VCU's Undergraduate Research Opportunities Program, Department of Biology, Division for Community Engagement and guidance from faculty members.
March 13, 2019
Joshua Dow is creating 3D images to make Agecroft Hall's collection more accessible
Sitting on a rotating turntable is a small wooden game called Nine Men's Morris, part of the collection of Agecroft Hall & Gardens, a historic house museum within a Tudor manor that was brought to Richmond in the 1920s piece by piece from Manchester, England.
Faculty Research
Our faculty conduct research on an extraordinarily diverse set of topics, ranging from the understanding of the histories of Native American people, to addressing inequality and disparities in education, to climate change and the development of alternative and efficient energy sources.
CHS faculty regularly win a variety of prestigious awards, fellowships and scholarships, including Woodrow Wilson fellowships and Fulbright scholarships. They also hold some of the largest grants at VCU, including center grants from the Centers for Disease Control to prevent youth violence and from the Federal Drug Administration and National Institutes of Health to understand the health consequences of e-cigarettes and the impact of policies put in place to regulate them.
Faculty research in the news:
Jan. 20, 2021
Exploring the legacy of William Penn, one of early America's important figures
A VCU professor has edited a new book on Penn's political writings, offering readers a glimpse into the mind of Pennsylvania's founder and an early leader in the movement for religious liberty.
Jan. 8, 2021
Moderates are about to hold an 'enormous amount of power' in Washington, VCU expert says
Cooperation between Democrats and Republicans will be a necessity, especially in the Senate.
Jan. 7, 2021
In "Confronting Totalitarian Minds," timely lessons from the past
The forthcoming book by VCU professor Aspen Brinton is inspired by Czech philosopher Jan Patočka and examines the use of dissidence to challenge leaders to be more democratic.
Dec. 17, 2020
VCU English professor edits new collection of nine classic Oscar Wilde short stories
The collection is the "perfect distillation of one of the Victorian era's most remarkable writers."
Dec. 14, 2020
Study finds more than half of respondents are unlikely to get COVID-19 vaccine under emergency use authorization
The survey of 788 U.S. adults also found older people and Black people were less likely to be willing to get the vaccine.
Dec. 8, 2020
'Virginia's First Peoples': VCU professor co-edits book about Virginia's pre-European contact past
The book provides a scholarly but accessible overview of American Indian archaeology before Europeans colonized Virginia.
Nov. 24, 2020
Teaching about social justice can lead to tense moments. A new book helps educators navigate them.
The book, co-edited by a VCU professor, aims to help teachers better handle challenging topics. "We are going to make mistakes" in being effective allies, Kim Case said. "But we must take the leap."
Nov. 12, 2020
'Death and Rebirth': VCU history professor's new book reveals the history of Richmond's cemeteries
"Cemeteries participate in the rawest political drives… . They teach us about power and resistance as much as about spiritual beliefs."
Oct. 14, 2020
CDC funds 10 projects — including 3 with VCU connections — that seek to prevent gun violence
To find ways to address gun violence, the CDC recently awarded 10 grants that seek to investigate how to prevent firearm-related violence and injuries. Three of the grants have connections to VCU.
Oct. 13, 2020
Pinterest's efforts to moderate vaccine discussion may be causing an information vacuum
The social media platform's 2019 policy to curb vaccine misinformation has led to an increase in the presence of verified medical sources, but a reduction in content visibility.
Oct. 1, 2020
New book by former VCU president, history professor tells four-decade history of the university
"Fulfilling the Promise: Virginia Commonwealth University and the City of Richmond, 1968–2009," by Eugene Trani and John Kneebone illuminates the past and future of American public higher education.
Sept. 25, 2020
Journalism professor's new textbook offers a fuller understanding of how politics and media work
Mallory Perryman's book, "Mediated Democracy," covers the complex relationship between media, politics and citizenship.
Sept. 14, 2020
What factors are associated with alcohol misuse in early midlife?
VCU researchers have been awarded a $3 million grant to study the risk factors and consequences of drinking in one's 30s and 40s.
Sept. 2, 2020
A VCU-led experiment will improve forecasts of how the forest carbon cycle responds to disturbances — a key question for climate change
Millions of trees die each year from invasive pests and pathogens, threatening the ability of forests to serve as a natural solution to climate change.
Aug. 27, 2020
National Science Foundation funds will help VCU better train math graduate teaching assistants
The grant is part of a collaborative project at three universities to improve undergraduate STEM education across the country by training TAs in engaging, inclusive and equitable instruction.
Aug. 20, 2020
Marrying the family: Your in-laws' drinking problems could lead to alcohol issues of your own
A study of more than 300,000 couples in Sweden finds marriage to a spouse exposed to parental alcohol misuse increases a person's likelihood of developing a drinking problem.
Aug. 17, 2020
VCU professor receives $1.4M grant to study links among divorce, marital discord and offspring alcohol use
Parental divorce and separation and parental marital discord are known correlates of offspring alcohol use disorder.
Aug. 12, 2020
Study raises alarms about how vaccine information is shared on social media
A VCU-led analysis of content on Pinterest related to the flu vaccine may hold clues that could help public health officials combat potentially deadly misinformation.
July 31, 2020
Prominent poets examine state of American poetry, Larry Levis' legacy in new book
VCU alumna and professor collaborate to share extended interviews from the making of their documentary on Levis' life and work.
July 30, 2020
Q&A with VCU professor Michael Paarlberg, senior Latin America policy adviser for Bernie Sanders' campaign
With fewer than 100 days to the general election between President Donald Trump and former Vice President Joe Biden, Paarlberg said much is at stake when it comes to U.S.-Latin America relations.
July 9, 2020
'More cases will be solved' now that Virginia has eliminated its rape kit backlog, VCU expert says
The announcement that Virginia's rape kit backlog has been eliminated is a "momentous occasion," said Tracey Dawson Cruz, professor and chair of the Department of Forensic Science at Virginia Commonwealth University.
July 8, 2020
New podcast, 'Transcripts,' shares stories and struggles of transgender activists across the U.S.
The podcast from the Tretter Transgender Oral History Project at the University of Minnesota is co-hosted by VCU professor Myrl Beam and Minneapolis City Council member Andrea Jenkins.
July 8, 2020
Researchers receive $3.1M grant to investigate the sustainment of mental health programs in schools
A grant from the National Institute of Mental Health will enable VCU researchers to study whether evidence-based mental health programs in schools continue after research support is removed.
July 2, 2020
Is it possible to halt the coronavirus' infection cycle? A VCU study is exploring the possibility.
"If we can find ways to prevent the virus from getting into cells in the first place, we might be able to prevent people from becoming infected."
June 24, 2020
'Everyone at the table': VCU media lab works to improve health communications
With science changing rapidly, the need for clear, accurate messages regarding public health is crucial, said Jeanine Guidry, who runs the Media+Health Lab.
June 17, 2020
Removal of Aunt Jemima brand is 'long overdue,' VCU history professor says
Gregory Smithers is co-author of the 2015 book "Racism in American Popular Media: From Aunt Jemima to the Frito Bandito."
June 12, 2020
'Writing Our Way Out' podcast explores traps and turning points that can lead to prison in America
VCU English professor David Coogan is hosting a podcast version of the book "Writing Our Way Out: Memoirs from Jail" that he co-wrote with 10 former Richmond City Jail inmates.
June 10, 2020
VCU physics professor receives NSF grant to develop new process for early cancer detection
A new type of sensor for cancer markers could mean improved chances of survival for patients.
May 22, 2020
VCU professors' study aims to encourage actions to protect the James River
Public relations and advertising faculty have received a grant to examine how digital media messaging could more effectively promote public action to improve the river's water quality.
May 20, 2020
Most implicit bias training in health care lacks proper foundation, research finds
In a forthcoming paper in The Lancet, a VCU psychology professor says such training should be grounded in a clinical translational framework to address racial and ethnic disparities in health care.
April 30, 2020
An untested foundation? A VCU study finds that many published psychology experiments lack evidence of validity
"Construct Validation of Experimental Manipulations in Social Psychology," a study conducted by VCU's David Chester and Emily Lasko, focuses on the practice of experimental manipulations.
April 24, 2020
Physicist prints 3D models of cancer cells to mimic tumor growth and provide insight for novel therapeutics
Daeha Joung, Ph.D., uses physics and three-dimensional printing technology to make live models of tumor cells for VCU Massey Cancer Center investigators to better understand disease progression and explore new therapeutic opportunities.
April 22, 2020
Expert on Eastern Europe health care voices concern about COVID-19 in Russia and Ukraine
"There are real questions about the ability of these health systems to handle something major."
March 5, 2020
VCU English professor named a Society for the Humanities fellow
Adin Lears, Ph.D., an assistant professor of English at Virginia Commonwealth University, has been named a fellow at the Society for the Humanities at Cornell University for the 2020-21 academic year.
Feb. 18, 2020
Q&A: Why folk saint Santa Muerte should be considered the 'matron saint of the Mexican drug war'
A new paper by VCU professor R. Andrew Chesnut, Ph.D., and University of Alberta professor Kate Kingsbury, Ph.D., reveals the death deity is venerated by both sides of the drug war.
Feb. 14, 2020
For older adults, 'hope' may be a key piece for improving health, psychological and social well-being
VCU professor emeritus Everett Worthington, Ph.D., is co-author of a new study that sheds light on the role of hope in improving the lives of an aging population.
Feb. 7, 2020
Cottom earns top honor from American Sociological Association
VCU professor recognized for advancing public understanding of sociology.
Jan. 17, 2020
New 'Bad Boys' film taps expertise of VCU's Santa Muerte scholar
"Much of her pop culture appeal is connected to surging interest in narco-culture, and one of Santa Muerte's many diverse roles as folk saint is that of narco-saint," says VCU expert Andrew Chesnut.
Jan. 16, 2020
At VCU, 170 experts gather to focus on solutions to opioid crisis
Participants were encouraged to "drive toward solutions and breaking down of silos" among law enforcement, medical, scientific and treatment professionals.
Jan. 9, 2020
VCU biology professor receives $1.3M grant to study membrane transport pathways in yeast
"We are interested in understanding the different ways that cells internalize material," said Derek Prosser, an assistant professor in the Department of Biology.
Jan. 8, 2020
An often-made claim that e-cigarettes are '95% safer' is not valid
Thomas Eissenberg of the Center for the Study of Tobacco Products at VCU was one of six experts who investigated the claim and found it unreliable and outdated.
Nov. 6, 2019
'This is a very big problem': Rising sea levels will lead to significant displacement in coming decades
The Maldives, a small country in the Arabian Sea, is at high risk of being made uninhabitable by rising sea levels.
Nov. 5, 2019
International symposium explores how nanoscience can help solve problems in energy, medicine
Cato Laurencin, M.D., Ph.D., a University Professor at the University of Connecticut, delivers keynote remarks at the International Symposium on Clusters and Nanomaterials on Monday.
Oct. 9, 2019
NIH awards $1.65M to VCU professor to study the role of brain metals in Parkinson's disease
Chemistry professor Heather R. Lucas' research may uncover novel disease pathways and could inspire new targets for drug development.
Oct. 4, 2019
CNN's Sanjay Gupta visits VCU to interview forensic science professor
Michelle Peace, Ph.D., appeared on CNN's Weed 5 to discuss her research on e-cigarettes and CBD oils and liquids.
Sept. 30, 2019
This VCU professor's invention speeds up how sexual assault DNA evidence is processed
The device could one day play a key role in reducing the nation's backlog of untested rape kits and expedite crime solving.
Sept. 27, 2019
A better approach to college drinking prevention?
CHS researchers are developing a program that focuses less on student drinking, and more on the underlying factors that lead people to drink.
Sept. 23, 2019
Grant aims to discover genes and environmental factors that strongly interact to modulate aging patterns
Kaya's four-year grant from NIH totals $512,000.
Sept. 19, 2019
English professor's book sheds new light on poet and preacher John Donne
The book reveals how Donne's writings have circulated throughout history, and how religious readers, communities and movements affected the distribution and reception of his body of work.
Sept. 11, 2019
$1.35M grant expands pro bono behavioral health care to Richmond-area underserved populations
The Primary Care Psychology Training Collaborative embeds clinical psychology doctoral trainees from VCU in health safety net clinics in Richmond.
Sept. 6, 2019
A taste of Italy: Professor's clinical research examines whether food really is the best medicine
Salvatore Carbone, a professor of kinesiology and health sciences, is studying the benefits of a diet rich in healthy fats.
Sept. 5, 2019
Inside the brains of psychopaths: VCU research aims to understand antisocial empathy
David Chester, Ph.D., leads a research team that investigates the dark sides of human behavior, trying to discern the underpinnings of traits like violence, aggression and revenge.
Aug. 30, 2019
Forensic science lecture series explores emerging research and high-profile cases
Tal Simmons, Ph.D., a VCU forensic science professor, delivered the first talk of the lecture series. She spoke on "Forensic Anthropology in the Service of Human Rights."
Aug. 29, 2019
Political rhetoric blows MS-13 violence out of proportion, VCU research finds
A new study by VCU researchers examined 20 years of violent crimes linked to MS-13 and found that political rhetoric greatly exaggerates the size of threat posed by the gang.
Aug. 28, 2019
Can Indigenous knowledge rooted in the deep past help address climate change?
VCU history professor Gregory Smithers will explore that question as part of a prestigious four-year Global Professorship in England.
Aug. 16, 2019
Newman's book announced as finalist for the 2019 Frederick Douglass Book Prize
This coveted annual prize recognizes the best book on slavery, resistance and/or abolition published in the preceding year.
Aug. 12, 2019
Structurally complex forests better at carbon sequestration
A new study led by VCU researchers may have implications for mitigation of climate change.
Aug. 8, 2019
Media+Health Lab wins presidential research grant
The $49,689 award has been given for the research project "#Doesanybodycare: Encourage suicide-related bystander behavior on Instagram."
July 31, 2019
Genetically at-risk youth can lower risk of alcohol problems by taking part in prevention program
A VCU-led study has found that participating in a family based prevention program during adolescence reduces the likelihood that people with a genetic predisposition to alcohol problems develop those problems as an adult.
July 17, 2019
Romantic partnerships mitigate influence of genetic predisposition to alcohol consumption
Yet relationships' "protective effect" against high-risk drinking is limited to men, according to a new study in Addiction led by a postdoctoral researcher in the Department of Psychology.
July 11, 2019
Professor receives U.S. government's highest honor bestowed to early career scientists and engineers
A chemistry professor is a recipient of the Presidential Early Career Award for Scientists and Engineers, the highest honor bestowed by the U.S. government to outstanding scientists and engineers who are beginning their independent research careers and who show exceptional promise for leadership in science and technology.
June 26, 2019
Love and alcohol: Romantic relationships can influence genetic predispositions for alcohol problems
How do the people we love shape our drinking? Researchers know that genetic and environmental factors influence alcohol outcomes such as abuse or dependence. However, romantic relationships can alter the impact of those genetic influences.
June 19, 2019
Study finds 'robust evidence' of persistent racial and ethnic disparities in discipline in secondary schools across the United States
Albert Ksinan found that African American students and students self-identifying as two or more races were at greater risk for discipline actions across all disciplinary measures in both middle and high schools.
June 17, 2019
Supreme Court's redistricting decision may be 'most important development in Virginia politics in a generation'
VCU Professor Alex Keena, Ph.D., said the Supreme Court's decision in Virginia House of Delegates v. Bethune-Hill delivers a major structural advantage to Democrats in the General Assembly elections.
June 13, 2019
Anthropology professor receives NSF grant to study humans' early ancestors
Amy Rector, Ph.D., is part of a team conducting research in Ethiopia where the oldest Homo fossil and earliest stone tools have been found.
June 7, 2019
A simple, fast and less-costly approach to diagnosing blood cancers?
Physics Professor Jason Reed and Massey Cancer Center researchers are studying the viability of 'DNA barcoding' under a grant from the Commonwealth Health Research Board.
May 23, 2019
Who was Mr. Baptiste? A VCU professor's investigation may have just proven the identity of the world's first black published composer.
The author of this sheet music in "A Voyage to the Islands Madera, Barbados, Nieves, S. Christophers and Jamaica" is known only as "Mr. Baptiste." VCU professor Mary Caton Lingold, Ph.D., has uncovered documents that suggest Baptiste was a black musician and composer.
May 14, 2019
'A Little Child Shall Lead Them': Inside Prince Edward County's battle for school desegregation
A new book co-edited by a Virginia Commonwealth University history professor offers a different perspective on the battle for — and against — educational opportunity in Prince Edward County, Virginia.
May 9, 2019
Facing fears: How exposure therapy can help children with anxiety
Michael A. Southam-Gerow, chair of VCU's Department of Psychology, discusses his new book, "Exposure Therapy with Children and Adolescents."
May 7, 2019
A VCU lab and Virginia nonprofit are using drones to create 3D models of Monument Avenue's monuments
A drone piloted by Ashley McCuistion is circling the Robert E. Lee monument on Richmond's Monument Avenue, taking detailed photographs that will allow her to create a 3D digital model of the controversial monument.
April 29, 2019
Cottom to receive prestigious early career award from American Sociological Association
Tressie McMillan Cottom, Ph.D., an assistant professor in the Department of Sociology in the College of Humanities and Sciences, has been named the recipient of the Doris Entwisle Early Career Award of the American Sociological Association section on Sociology of Education.
April 16, 2019
Psychology professor edits special journal issue on disability and social justice in rehabilitation research
A special issue of the journal Rehabilitation Psychology edited by a Virginia Commonwealth University psychology professor explores disability and social justice in rehabilitation research.
April 11, 2019
Newman's book wins gold medal 2019 Independent Publisher Book Award
"A Dark Inheritance: Blood, Race, and Sex in Colonial Jamaica," (Yale University Press) by Brooke N. Newman, Ph.D., an associate professor in the Department of History in the College of Humanities and Sciences, has won a 2019 Independent Publisher Book Award.
March 7, 2019
English professor receives Fulbright award to teach, conduct research in Romania
Cristina Stanciu, Ph.D., an English professor at Virginia Commonwealth University, has received a prestigious Fulbright U.S. Scholar award to teach in Romania for one year and to conduct research for a new book manuscript, "Archives of Memory and Survival: Indigenous Representation in Residential School Literature and Film."