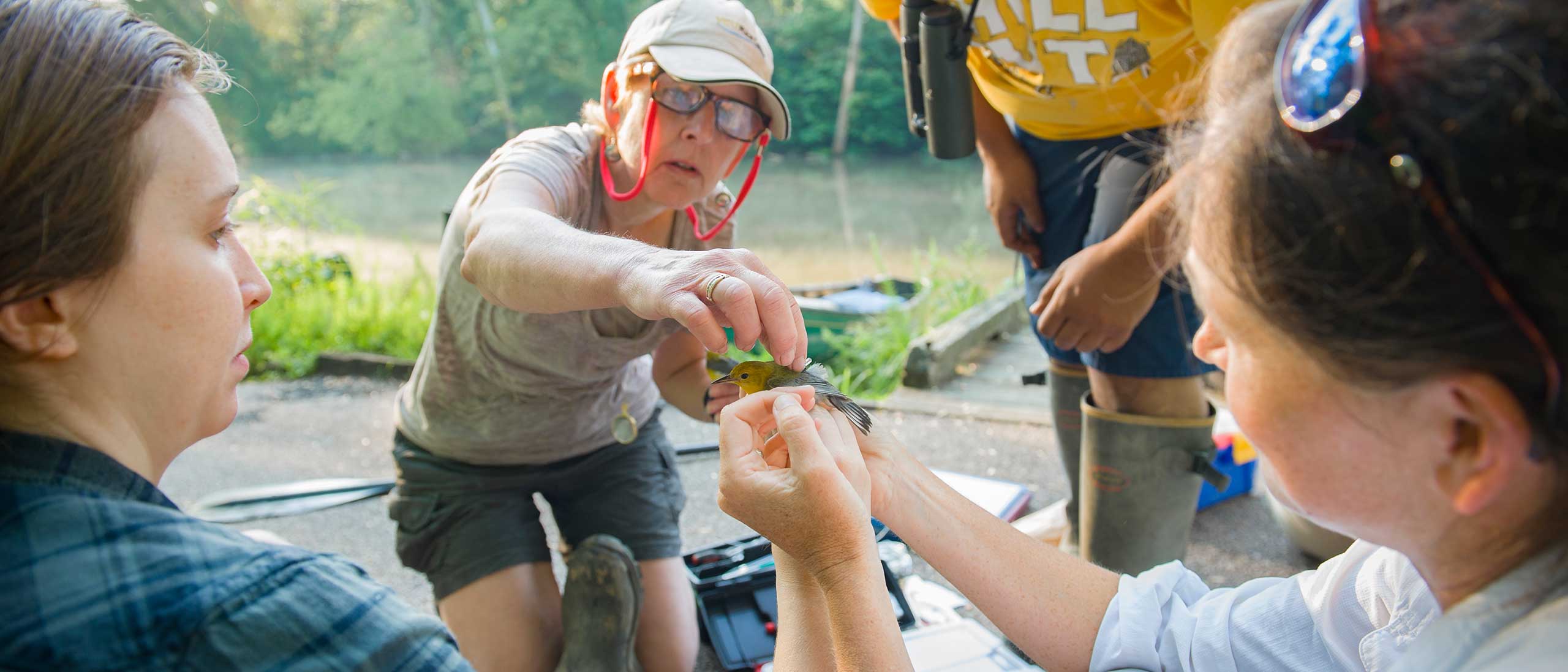 Research
The College of Humanities and Sciences develops and advances nationally recognized student and faculty scholarship, research and creative initiatives committed to addressing challenges in our urban Richmond community and beyond.
We aim to become a leader in integrating meaningful engagement with real-world challenges that support the development of global citizens.
Student Research
We have many faculty who are internationally recognized experts in their fields. In the College of Humanities and Sciences, we prioritize student engagement and interaction with faculty. We don't just want you to help with research, we want you to lead.
The diversity of our research means students can obtain hands-on experience in many different areas in order to find their passion. Many CHS faculty conduct community engaged research, which allows students the opportunity to conduct research that has a meaningful, positive impact on VCU and our Richmond community.
13,671 undergraduates engaged in experiential learning and research in 2019-20. This is what makes learning at VCU special and sets us apart.
Student research in the news:
June 3, 2021
Putting science on the ballot
Doctoral student Kayla Mathes studies forest ecology and is raising awareness of climate change ahead of Virginia's 2021 elections through her work with the Virginia League of Conservation Voters.
April 27, 2021
Real research: Future nurse finds rewards in research's potential to better understand others
Nayab Mughal has been involved in three studies, giving her the chance to learn how the pandemic has affected the experiences of both pregnant and hematopoietic stem cell transplant patients.
April 7, 2021
Undergraduate students present research to industry partners
NASA, Altria and GSK are just a few of the national companies that participate in the annual Chemistry Undergraduate Research Symposium.
March 24, 2021
VCU student works in local COVID-19 testing lab
Yaa Adarkwa Darko is pursuing a master's degree in bioinformatics at VCU.
Feb. 2, 2021
Students in a VCU math class have published six research papers in top journals. More are on the way.
The undergraduate students in "Introduction to Mathematical Biology" are applying math concepts like game theory to better understand and tackle infectious diseases and other real-world problems.
Dec. 8, 2020
Class of 2020: Transfer student Michaela Friend aims to defend the rights of others
An aspiring human rights lawyer, Friend achieved much in her short time at VCU and wants to help those who have been historically marginalized.
Dec. 7, 2020
Class of 2020: Future teacher found supporters and her voice at VCU
Getting through college was a difficult but rewarding journey for Hannah Johnson, who experienced homelessness as a child and now aims to help her students become the best versions of themselves.
Dec. 7, 2020
VCU senior awarded prestigious Schwarzman Scholars fellowship
Raven Witherspoon is the first VCU student to be named a Schwarzman scholar, and will travel to China to complete a master's degree in global affairs next summer.
Dec. 2, 2020
Promoting diversity in the field of chemistry
In 2019, 67 women graduated from VCU with bachelor's degrees in chemistry, fifth-most in the nation.
Nov. 23, 2020
Class of 2020: Delaney Savedge helps keep the public safe during the pandemic
The VCU student-athlete's involvement at the Virginia Department of Health and on a study-abroad trip to Jamaica provided "an eye-opening experience to public health," and a possible future career.
Nov. 20, 2020
Class of 2020: Sofia Chilquillo gives back to her native Peru
The VCU psychology major is interning with Pan Peru USA and helping Peruvian women sell their alpaca products to U.S. markets.
Nov. 18, 2020
Class of 2020: Transfer student Melody Guitz gains her footing as a leader
As her academic achievements pave the way to a career in psychology, Guitz also has helped create a community at VCU for other transfer students.
Nov. 11, 2020
Amanda Parks receives CHS Rising Star in Inclusion, Diversity and Equity Award
Parks is a doctoral candidate in the clinical psychology program with a concentration in child/adolescent development.
Nov. 2, 2020
At 76, Augustine Lewis is pursuing a degree in French — and proving that age is just a number
Augustine Lewis graduated from the VCU School of Medicine in 1969. Now he's back at the university to pursue a bachelor's degree in French.
Nov. 25, 2019
Student turns EMT experience into research opportunity
"The research process as an undergraduate has had an instrumental impact on my personal development," Tarek Haggy said. "It's taught me things that no class could and provided early exposure to the professional world."
April 16, 2019
Chemistry and Forensic Science student receives prestigious NSF graduate fellowship
Caitlin Cain, a senior majoring in chemistry and forensic science, has been awarded a National Science Foundation Graduate Research Fellowship, which recognizes and supports outstanding graduate students in science, technology, engineering and mathematics disciplines who are pursuing research-based master's and doctoral degrees.
April 9, 2019
Do insecticide-treated mosquito nets harm sleep quality? This VCU student is aiming to find out.
Sarah Yankson will work on a study this summer in Ghana as one of a dozen recipients of grants from the College of Humanities and Sciences' Baldacci Student Experiential Learning Fund.
Faculty Research
Our faculty conduct research on an extraordinarily diverse set of topics, ranging from the understanding of the histories of Native American people, to addressing inequality and disparities in education, to climate change and the development of alternative and efficient energy sources.
CHS faculty regularly win a variety of prestigious awards, fellowships and scholarships, including Woodrow Wilson fellowships and Fulbright scholarships. They also hold some of the largest grants at VCU, including center grants from the Centers for Disease Control to prevent youth violence and from the Federal Drug Administration and National Institutes of Health to understand the health consequences of e-cigarettes and the impact of policies put in place to regulate them.
Faculty research in the news:
Sept. 15, 2021
Bishop Sullivan Lecture Series fall events announced
Two virtual events will be held this fall as part of the Bishop Walter F. Sullivan Lecture Series at Virginia Commonwealth University. One will focus on religion among migrant workers and the other will explore the body languages Catholics use to express devotion.
Sept. 13, 2021
Search and rescue group gets training in bone identification with VCU professor
Members are trained to look for clothing on bushes or broken tree limbs but don't have as much experience identifying and documenting human remains.
Sept. 9, 2021
How understanding your child's unique nature can make you a more effective parent
VCU professor Danielle Dick's new book, 'The Child Code,' helps parents adapt their parenting strategies to fit how their child is wired.
Aug. 31, 2021
Massey researchers awarded $1.3M to examine impacts of e-cigarette flavor regulations on African American menthol smokers
The research aims to find out whether having e-cigarette flavors available — particularly menthol — increases uptake of e-cigarettes and reduces menthol cigarette use.
Aug. 26, 2021
Study identifies 579 genetic locations linked to anti-social behavior, alcohol use, opioid addiction and more
The study, published today in the journal Nature Neuroscience, is one of the largest genome-wide association studies ever conducted.
Aug. 24, 2021
$1.1M grant supports VCU research focused on drug discovery for 'undruggable' diseases
Matthew Hartman's research could one day lead to a new drug delivery system.
Aug. 19, 2021
VCU professor is named recipient of Virginia Museum of History & Culture's William M.E. Rachal Award
The award to Brian Daugherity is in recognition of an article documenting African American activism in Goochland County in the Jim Crow era.
Aug. 17, 2021
Forest ecology, illustrations and jam sessions: How arts and science mix in Chris Gough's lab
Gough, a biology professor — and a trained singer and musician — hosts art students in his lab to better ensure important data is conveyed through imagery.
Aug. 16, 2021
Study shows zinc's oxidation state can be made +3, fundamentally changing the element's chemistry
A new paper by VCU researcher Puru Jena "shows that fundamental chemical properties of an atom can be changed" and could lead to the synthesis of new materials with applications to many industries.
Aug. 5, 2021
Is revenge a dish best served cold? For most, 'hot and ready' is preferable, VCU study finds
Across six experiments involving 1,500 participants, researchers found a clear and consistent preference for immediate revenge.
Aug. 3, 2021
'A painful chapter in our nation's history': New class to shed light on Indigenous boarding schools
The course will examine the traumatic histories at the schools in the United States and Canada, where thousands of Native children lost connections with their cultures, languages and families.
Aug. 2, 2021
VCU forensic science instructor appears on 'Forensic Files II'
Retired FBI examiner and adjunct faculty member Carlo Rosati was featured on the episode "The Orange Shorts."
Aug. 2, 2021
Graphic novel illustrated by VCU professor tells the story of 'The Day the Klan Came to Town'
The comic is a fictionalized retelling of a community's resistance to a violent march of thousands of Ku Klux Klan members in Carnegie, Pennsylvania.
July 29, 2021
VCU wetlands research will help improve models that predict global climate change
A project at the Rice Rivers Center fills a unique gap because it will capture data from a source that is both tidal and freshwater, which is "rare in tidal regions because of proximity to saltwater."
July 15, 2021
Armed with a ruler and a $1M grant, a VCU professor studies functional trait variation in plants
Biology professor Catherine Hulshof's research, funded by the National Science Foundation, aims to help predict the responses of species and ecosystems to climate change.
July 15, 2021
Analysis of school lunches suggests federal nutrition standards should be maintained, or strengthened
A new study led by VCU researchers examined nutrient composition of what children chose and what they actually ate through the National School Lunch Program.
July 9, 2021
VCU students learn about immigration and the border firsthand
A service-learning trip to Arizona benefits students and the migrant community at Casa Alitas.
July 6, 2021
$1.4M grant will support free behavioral health services to underserved youth
The grant will expand VCU's Primary Care Psychology Training Collaborative with a focus on rural and low-income minority youth and their families.
July 2, 2021
Chemistry professor receives project funding from the university's Presidential Research Quest Fund
Indika Arachchige, Ph.D., is one of 18 VCU researchers to receive part of a $512,000 award to fund research projects.
July 1, 2021
How virtual reality may help explore the role of fear in youth at risk for violence and crime
Participants in a new VCU-led study will use VR technology to experience a mild exposure to common phobias — for example, a virtual reality roller coaster.
June 30, 2021
A VCU-led study conducted early in COVID-19 could help confront the next health crisis
The newly published study involved a survey in March 2020 about how the public would respond to CDC-recommended actions amid the emerging pandemic.
June 24, 2021
As marijuana use grows, VCU researchers study its effect on pregnant and postpartum mothers
Funds and facilities at the Wright Center for Clinical and Translational Research are making this pilot work possible.
June 22, 2021
Want better sleep? Less fast food and screen time, and more physical activity may be key.
A new study led by VCU researchers sheds light on lifestyle factors associated with healthy and unhealthy sleep.
June 11, 2021
'Think on This': madison moore on merging art, music and academics
madison moore, assistant professor of Gender, Sexuality and Women's Studies, talks about being a DJ, and how it informs and influences his work in the classroom in this latest episode of "Think on This."
June 2, 2021
What was COVID-19's impact on mental health, well-being and substance use early in the pandemic?
Research shows that those with a history of adverse childhood experiences were more likely to bear a heavier burden during the pandemic's initial surge.
June 1, 2021
New book co-edited by a VCU professor offers a more inclusive understanding of the Arab diaspora
Mariam Alkazemi's "Arab Worlds Beyond the Middle East and North Africa," celebrates the achievements and acknowledges the challenges of new communities built by the Arab diaspora around the world.
May 28, 2021
$2M grant to support programs for elementary school students at risk of social, behavioral and emotional problems
The award from the Institute of Education Sciences will be co-led by researchers from Virginia Commonwealth University and the University of Minnesota.
May 28, 2021
Marilyn Miller, crime scene guru and founding forensic science faculty member, retires after 17 years at VCU
"It's more than just following a checklist, taking a couple pictures and packaging a little bit of evidence. [It's] about understanding how that evidence is left at the crime scene."
May 24, 2021
B. Ethan Coston awarded REAL Challenge grant
Their proposal to the Relevant, Experiential and Applied Learning (REAL) Challenge grant was accepted and is seeking applicants for the inaugural cohort, academic year 2021-22.
May 24, 2021
Song and Everhart awarded inaugural Community-Engaged Research Impact Grants
The grant was developed in partnership with VCU Real and the Undergraduate Research Opportunities Program.
May 20, 2021
11 experiential learning projects selected for VCU's 2021 REAL Grants
While this marks the second year of the REAL Challenge Grants initiative, this iteration saw an increased collaboration with Community-Engaged Research in the Office of Institutional Equity, Effectiveness and Success.
May 18, 2021
A new VCU study explores the 'nature is healing' memes that dominated social media at the height of the pandemic
The jokes have been called the pandemic's best meme. A study that originated out of a VCU class examines why.
May 18, 2021
How journalism can empower and engage audiences without making them feel depressed
A new book co-edited by VCU journalism professor Karen McIntyre Hopkinson explores eight socially-responsible news reporting practices.
May 18, 2021
Climate change is contributing to 'state change' in diverse ecosystems, including in Virginia
A new VCU-led study examines how small changes in an environmental driver are transforming the structure or function of some ecosystems.
May 5, 2021
VCU professor to explore 'emotional code switching' among African American youth
Psychology professor Fantasy Lozada received an NSF CAREER award to study emotion regulatory flexibility among African American youth, which helps them to protect against racism.
April 22, 2021
Romantic relationships mitigate effects of trauma on alcohol use among college students
A new study led by VCU researchers finds that students who have been exposed to interpersonal trauma prior to college consume more alcohol than those without interpersonal trauma exposure. But romantic relationships mitigate these effects of trauma on a student's drinking behavior.
April 22, 2021
Here's how New York City survived a deadly outbreak — in the 1790s
Through the eyes of front-line medical worker Alexander Anderson, a forthcoming book by VCU history professor Carolyn Eastman will explore how New York grappled with yellow fever epidemics.
April 22, 2021
President Biden's climate change pledge sets a global example, VCU expert says
Biology professor Chris Gough says Biden's pledge to cut greenhouse gas emissions in half is a move in the right direction, but solving climate change will take a global effort.
April 14, 2021
E-cigarettes with a cigarette-like level of nicotine are effective in reducing smoking and exposure to carcinogen, study finds
E-cigarettes with a cigarette-like level of nicotine are effective in reducing smoking, according to a new study led by researchers at VCU and Penn State College of Medicine.
April 1, 2021
Will the U.S. public support donating COVID-19 vaccines to low- and middle-income countries?
A new study led by VCU researchers surveyed 788 people. Among its findings: Older people were less likely to support donating vaccines, as were Republicans.
March 26, 2021
Conspiracy theories are dividing us. How do we talk about them?
Social media groups are allowing people to form strong communities around shared beliefs — even if they aren't true. To discuss this with loved ones requires a careful approach.
March 26, 2021
VCU, COVID-19 and race and health inequities
An interview with VCU psychologist Faye Belgrave, Ph.D.
March 24, 2021
Involvement in student organizations, living on campus early in college reduce odds of dropping out
A new study by VCU researchers also finds that depressive symptoms, antisocial behaviors, exposure to stressful events and substance use increase the risk.
Feb. 9, 2021
'The Strange Genius of Mr. O' reveals the story of America's first forgotten celebrity
The book by VCU history professor Carolyn Eastman dives into performances, eccentricities, scandals and narcissism — and the nature of fame in America's founding era.
Feb. 5, 2021
Two professors honored for their contributions to the field of chemistry, research
Hani El-Kaderi and M. Samy El-Shall are recipients of awards from Virginia Section of the American Chemical Society.
Jan. 20, 2021
Exploring the legacy of William Penn, one of early America's important figures
A VCU professor has edited a new book on Penn's political writings, offering readers a glimpse into the mind of Pennsylvania's founder and an early leader in the movement for religious liberty.
Jan. 8, 2021
Moderates are about to hold an 'enormous amount of power' in Washington, VCU expert says
Cooperation between Democrats and Republicans will be a necessity, especially in the Senate.
Jan. 7, 2021
In "Confronting Totalitarian Minds," timely lessons from the past
The forthcoming book by VCU professor Aspen Brinton is inspired by Czech philosopher Jan Patočka and examines the use of dissidence to challenge leaders to be more democratic.
Dec. 17, 2020
VCU English professor edits new collection of nine classic Oscar Wilde short stories
The collection is the "perfect distillation of one of the Victorian era's most remarkable writers."
Dec. 14, 2020
Study finds more than half of respondents are unlikely to get COVID-19 vaccine under emergency use authorization
The survey of 788 U.S. adults also found older people and Black people were less likely to be willing to get the vaccine.
Dec. 8, 2020
'Virginia's First Peoples': VCU professor co-edits book about Virginia's pre-European contact past
The book provides a scholarly but accessible overview of American Indian archaeology before Europeans colonized Virginia.
Nov. 24, 2020
Teaching about social justice can lead to tense moments. A new book helps educators navigate them.
The book, co-edited by a VCU professor, aims to help teachers better handle challenging topics. "We are going to make mistakes" in being effective allies, Kim Case said. "But we must take the leap."
Nov. 12, 2020
Stanciu appointed as the new director of the Humanities Research Center
Cristina Stanciu, Ph.D., is an associate professor in the Department of English, where she has been a faculty member since 2011.
Nov. 12, 2020
'Death and Rebirth': VCU history professor's new book reveals the history of Richmond's cemeteries
"Cemeteries participate in the rawest political drives… . They teach us about power and resistance as much as about spiritual beliefs."
Nov. 11, 2020
Broadcast journalism professor receives CHS Trailblazer in Inclusion, Diversity and Equity Award
Clarence Thomas, Ph.D. is an associate professor of mass communications in the Richard T. Robertson School of Media and Culture.
Nov. 10, 2020
For faculty, a semester of challenge, creativity and resilience
A fall term defined by COVID-19 has been anything but normal, as professors work to modify curriculum and meet the needs of students — and double check the WiFi connection.
Oct. 28, 2020
PrEDI receives the CHS Collaborative Work in Inclusion, Diversity and Equity Award
PrEDI is the Committee for the Promotion of Equity, Diversity and Inclusion in the Department of Psychology.
Oct. 26, 2020
'Exploring the sonic world that's around us': A look at VCU faculty working in the world of sound
From art installations to podcasts to music, these profiles in audio provide a unique glimpse into a diverse field of study.