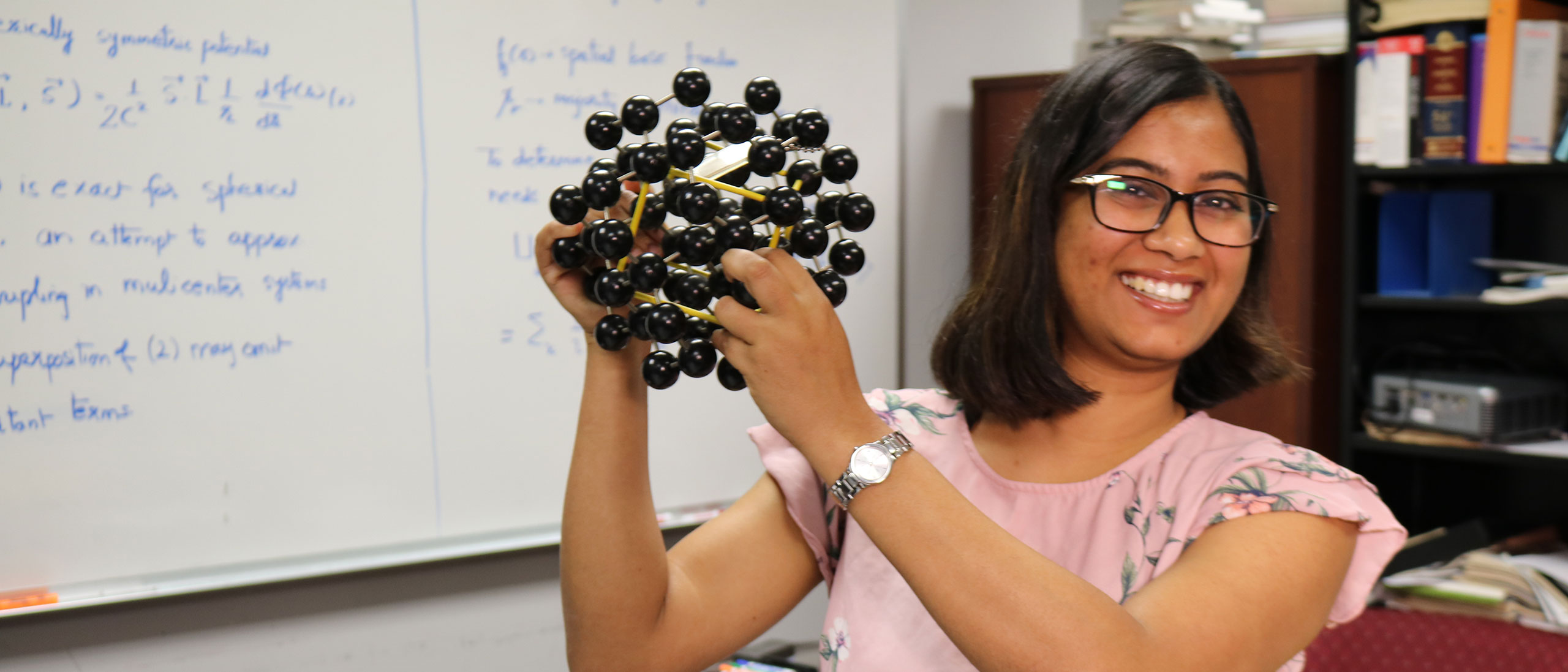 Graduate Studies
The College of Humanities and Sciences offers a breadth of graduate degrees and certificates that originate from the sciences, social sciences and humanities disciplines. Graduate programs in the College play a critical role in supporting VCU's mission to advance our status as an urban public research university. Our programs directly or indirectly address society's 21st century challenges with a focus on the development of knowledge through scientific investigations, scholarly contributions and creative works.
Graduate students have access to all the resources necessary for academic success, including technology and equipment, office and research space, and graduate assistantship support (contact specific program for information regarding stipend and tuition support).
Most importantly, our programs are committed to:
providing a supportive positive mentoring relationship between faculty and students
developing programs for graduate students that bridge graduate degrees to professional opportunities
enhancing an appreciation for the critical importance of the cross fertilization of ideas and interdisciplinary approaches
Our grad students in the news:
Dec. 2, 2020
Promoting diversity in the field of chemistry
In 2019, 67 women graduated from VCU with bachelor's degrees in chemistry, fifth-most in the nation.
Nov. 11, 2020
Amanda Parks receives CHS Rising Star in Inclusion, Diversity and Equity Award
Parks is a doctoral candidate in the clinical psychology program with a concentration in child/adolescent development.
Sept. 2, 2020
COVID-19 has sparked a 12-fold increase in the remote delivery of mental health care across the U.S.
Prior to the pandemic, psychologists reported performing 7.07% of their clinical work with telepsychology. During the pandemic, that number has soared to 85.53%.
Sept. 2, 2020
A VCU-led experiment will improve forecasts of how the forest carbon cycle responds to disturbances — a key question for climate change
Millions of trees die each year from invasive pests and pathogens, threatening the ability of forests to serve as a natural solution to climate change.
July 15, 2020
New study reveals a graphene sheet behaves 'like a mirror' for water molecules
The study led by VCU researchers addresses an important area for medicine, industry and science: Understanding how liquids — mainly water — interact with surfaces.
July 2, 2020
Early marriage may lead to unsafe drinking behavior by those with higher genetic risk of alcohol use
Though previous research has found that marriage protects against risky alcohol use, that protection is not uniform, and getting married early can exacerbate risk for alcohol use among individuals who are genetically predisposed to drink more.
June 8, 2020
VCU English student, a teacher at Richmond's John Marshall High School, digs into the school's past
Sara MacRae's research project for her master's degree is a study of the history of the school and its current site, which was once a smallpox quarantine zone following the Civil War.
May 12, 2020
Not all psychopaths are violent. A new study may explain why some are 'successful' instead.
A new study conducted by VCU researchers sheds light on the mechanisms underlying the formation of "successful" psychopaths.
April 30, 2020
An untested foundation? A VCU study finds that many published psychology experiments lack evidence of validity
"Construct Validation of Experimental Manipulations in Social Psychology," a study conducted by VCU's David Chester and Emily Lasko, focuses on the practice of experimental manipulations.
Sept. 19, 2019
How do people with psychopathic traits control 'dark impulses'? A study finds answers in the brain.
Using neuroimaging technology, a team of researchers has investigated the possibility that "successful" psychopathic individuals have more developed neural structures that promote self-regulation.
Aug. 27, 2019
VCU students' internship will help VDOT better predict oversight costs of local projects
The students — Jessica Cooper, Katrina Gauntt, Dani Jabado and Katherine Werner — are graduate students in the Department of Statistical Sciences and Operations Research.
Aug. 21, 2019
VCU, UR study on spread of gypsy moths amid climate change receives prestigious award
The study received a Royal Entomological Society Award for Best Paper Published in 2017/18 in the journal Physiological Entomology.
June 20, 2019
New VCU class takes students on media and culture study of Vietnam
Over 10 days, students visited historically and culturally relevant sites and international tourism destinations in Central Vietnam.
April 30, 2019
What predicts college students' drinking habits? How much they think others are drinking.
A new study by VCU researchers examines students' genetic risk of alcohol use, roommates' drinking habits and the perception of peer drinking.
April 26, 2019
History grad students' Civil War research will be on display at American Civil War Museum's grand opening
When the new American Civil War Museum at Historic Tredegar officially opens its doors on Saturday, May 4, visitors will have an opportunity to check out new scholarly research conducted by Virginia Commonwealth University history graduate students about the Civil War and how it is remembered.
March 13, 2019
Joshua Dow is creating 3D images to make Agecroft Hall's collection more accessible
Sitting on a rotating turntable is a small wooden game called Nine Men's Morris, part of the collection of Agecroft Hall & Gardens, a historic house museum within a Tudor manor that was brought to Richmond in the 1920s piece by piece from Manchester, England.