May 12, 2021
Members of the Class of 2021 will be honored at virtual and in-person events.
May 7, 2021
Headaches and memory loss nearly derailed her final years of school. But thanks to her mother, the Department of Political Science and her own perseverance, Jolley will graduate this month.
May 6, 2021
"I want something that's going to make me want to get up in the morning, no matter how exhausted I am, with an energy that says, 'I gotta go. I gotta go do my work.' … There's so much work to do."
May 5, 2021
Psychology professor Fantasy Lozada received an NSF CAREER award to study emotion regulatory flexibility among African American youth, which helps them to protect against racism.
May 5, 2021
Later this month, he will become the first graduate of VCU's Graduate Certificate in Health Care Innovation program.
April 30, 2021
Thomas, who taught mass communications at VCU for 30 years, was the first Black faculty member to receive tenure at the university in his field.
April 30, 2021
Josly Pierre-Louis' parents immigrated to America from Haiti. Their daughter, a VCU grad, is the rising tide for all boats when it comes to her success in chemistry and health research.
April 27, 2021
Nayab Mughal has been involved in three studies, giving her the chance to learn how the pandemic has affected the experiences of both pregnant and hematopoietic stem cell transplant patients.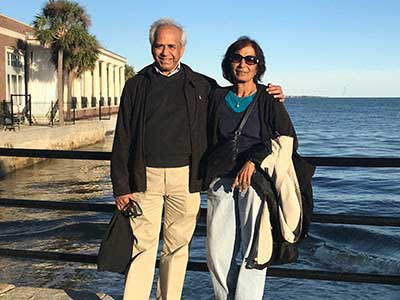 April 26, 2021
Tripti Jena, M.D., and Purusottam "Puru" Jena, Ph.D., credit much of their family's well-being to the careers and community they found when they joined Virginia Commonwealth University in 1980.
April 22, 2021
A new study led by VCU researchers shows students exposed to interpersonal trauma prior to college are more likely to engage in risky alcohol use — but effects can be mitigated through romantic relationships.