May 4, 2021
Beckford is the author of the blog Packs Light, which provides resources, information and tips for aspiring travelers.
April 30, 2021
Josly Pierre-Louis' parents immigrated to America from Haiti. Their daughter, a VCU grad, is the rising tide for all boats when it comes to her success in chemistry and health research.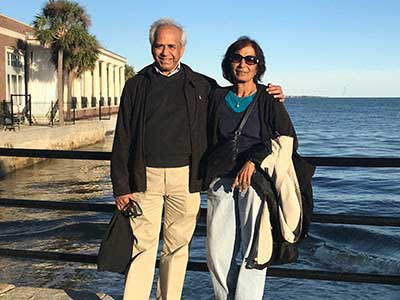 April 26, 2021
Tripti Jena, M.D., and Purusottam "Puru" Jena, Ph.D., credit much of their family's well-being to the careers and community they found when they joined Virginia Commonwealth University in 1980.
Apr 19, 2021
Ashley Patino is founder of local bakery and pizza shop, Pizza Bones.
Apr 16, 2021
Growing up in Northern Virginia, Correy Faciane (B.S.'16/H&S) volunteered with Eddie's Club, a nonprofit recreational center that provided events and activities for disabled youth. He returned in 2013, on a trip home from Virginia Commonwealth University, and was disheartened by what he found.
Apr 6, 2021
The craft beer industry has cultivated creative ways to give back to the community. For Mitchell, supporting his hometown of Richmond, Virginia, began when he opened Garden Grove Brewing and Urban Winery in Carytown in 2015.
March 26, 2021
VCU graduate Annie Newton discusses "The Donna Reed Show" and how Reed, a celebrated actress, shaped feminism in the 1950s and 60s.
March 4, 2021
Dylan Naitraj David travels to his homeland, Trinidad, to conduct cancer research.
March 2, 2021
Aíne Norris is a writer and instructor of English and American literature.
Feb. 25, 2021
This award is given to two faculty members, one tenure track faculty and one term faculty, in the Department of Mathematics and Applied Mathematics.