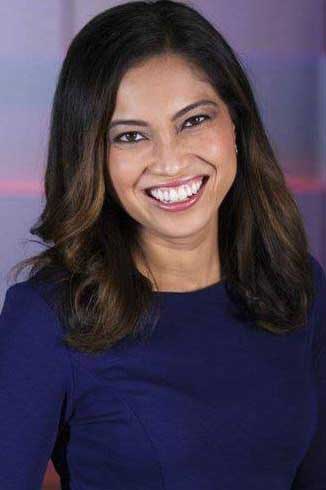 Ashley Poerstel
Affiliation:
Richard T. Robertson School of Media and Culture
Poerstel previously served as the Henrico beat reporter for WWBT/NBC12 in Richmond.
Ashley Poerstel has held positions as a reporter, anchor and producer at TV news stations in Hawaii, Maryland and Virginia. She is also a former sprinter who competed in NCAA Division I track and field at the University of Hawaii at Manoa. Poerstel is originally from San Jose, California, and currently resides in Richmond with her spouse and three daughters.
---
Q&A with Ashley Poerstel
Where did you grow up? Can you tell us a little about your educational journey?
I grew up in San Jose, California. I was a 200m/400m sprinter in high school and received a full-ride scholarship to run track at the University of Hawaii at Manoa. I balanced being a student/athlete at an NCAA Division I school and majored in journalism. Upon graduation, I got my first job as part-time producer/assignment desk manager at KHNL (now Hawaii New Now) in Honolulu. A couple years later, I got a job as a multimedia journalist at WHAG (now WDVM) in Hagerstown, Maryland, and then as a multimedia journalist at WWBT/NBC12 in Richmond. I started as a morning reporter and later became the Henrico beat reporter for a little over six years. During that time I covered two presidential inaugurations, the Washington Navy Yard shooting in 2013, several natural disasters, the violence in Charlottesville in 2017 and countless other stories and investigations. I started teaching at VCU as an adjunct in January 2019.
When did you first fall in love with your field of study? What made you decide to work in academia?
I fell in love with writing as a child and I fell in love with journalism in college. I decided to work in academia because it seemed like a great opportunity to help other future journalists.
What attracted you to VCU? What are you most excited about in regards to VCU and Richmond?
I have a lot of respect for VCU's journalism program at the Robertson School.
Can you talk a little about your teaching philosophy? What do you most like about teaching?
I love that I can teach things like how to interview or put together a news story and my students will actually put together a story that semester. They apply what they learn in the classroom.
Can you tell us either a quirky fact about yourself or some of your hobbies?
I love to surf. I have been surfing since I was 18 and have hit many spots in Hawaii, California, and up and down the East Coast. I have even surfed while pregnant.