Pocahontas Reframed 2022 recap
Dec. 14, 2022
The annual Native American film festival featured more than 20 films, musical performances, readings and more.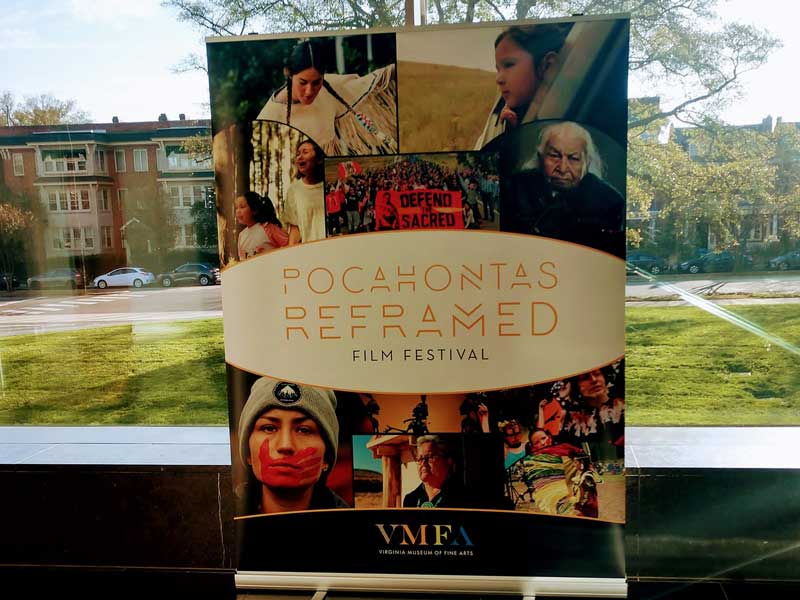 The Sixth Annual Pocahontas Reframed Film Festival (PRFF) took place at the Virginia Museum of Fine Arts on Nov. 18-20, 2022. The Humanities Research Center at Virginia Commonwealth University was one of the sponsors of this year's festival. The PRFF featured over 20 films, musical performances, a filmmakers forum – "Indigeneity Beyond the Southern Border" – and a reading by Dakota Nation author Diane Wilson from her recent novel, "The Seed Keeper."
The three-day festival started on Friday morning, Nov. 18, with six shorts, including the comedy "Peace Pipeline" (2021), which points to the risks oil pipelines bring to Indigenous communities and lands; "Runs Through Their Blood" (2022), a documentary exploring the intergenerational effects of the Canadian residential schools; and "Saging the World" (2022), which looks at mainstream uses of sage, with devastating ecological and cultural effects. Some of the feature films in this year's program included: "End of the Line: The Women of Standing Rock" (2021), "Rez Metal" (2021) and "Call Me Human" (2020).
One of the guests at the festival was Ethan Brown, who served as the first Karenne Wood Native Writer/Artist in Residence at the VCU Humanities Research Center in September of 2022. Brown, along with his writing and filmmaking partner, Federico Cuatlacuatl, presented a screening of their new experimental film, "First Landings" on the first day of the festival.
A festival reception was held on Friday night, Nov. 18, in the VMFA's Marble Room, and started with a prayer by Sam Bearpaw, a Native American actor, and featured dances by local and regional tribal dancers. Several supporters of the festival also offered brief remarks: the dean of the VCU College of Humanities and Sciences, Catherine Ingrassia, Ph.D., and the Vice President for Research and Innovation, P. Sriram Rao, Ph.D.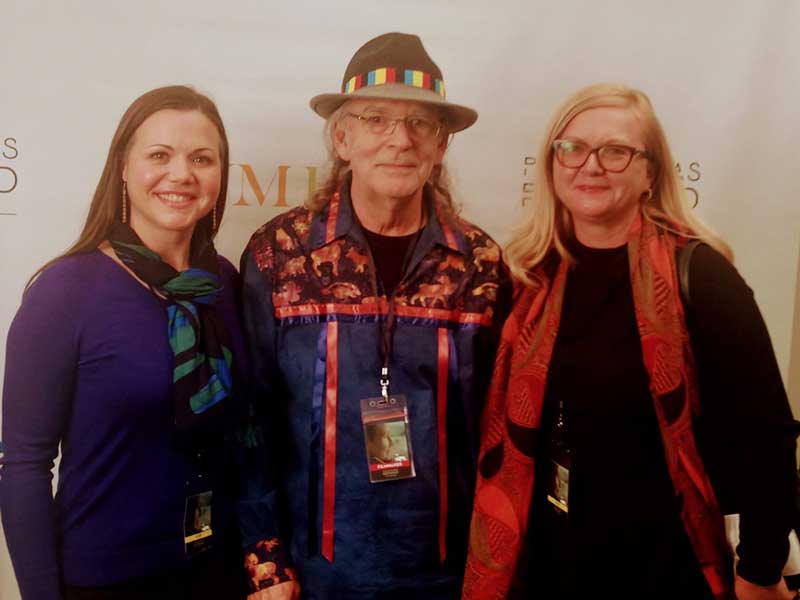 Ingrassia emphasized the mission of the festival – reframing the narratives we use when we talk about identity, history and culture. Ingrassia noted that "for far too long the voices we've heard have been far too limited. The Pocahontas Reframed Film Festival challenges that pattern by expanding our range of voices, centering the Native experience, and offering complex and nuanced Native narratives. Representation is essential." Ingrassia urged the audience to "continue our commitment to strengthen our relations with local Native communities, to recruit Virginia Native students to come to VCU, and, ideally, to expand our curriculum to include more classes in Indigenous studies to make sure our students also benefit from expanded and reframed perspectives."
Rao also reaffirmed the support of VCU for future collaborations: "This event directly addressed two of VCU's strategic research initiatives: enriching the human experience and achieving a just and equitable society. We remain deeply committed not only to local but also global Indigenous communities, and look forward to supporting our community of scholars and community partners who help advance two key aspects of our research mission." He noted that VCU now has a task force working on a land acknowledgement, as well as recommendations for the university to strengthen existing ties with Native Virginia. "We hope to create opportunities for future mutually-beneficial and reciprocal partnerships between VCU and local Native communities, and to make Virginia Native people and their history more visible in our curriculum, faculty, staff and initiatives," remarked Rao.
Cristina Stanciu, Ph.D., the HRC director and an associate professor of English at VCU, who studies Indigenous literature and film said, "This is a unique opportunity for us as an institution to show support for the humanities and the arts by participating in film festivals like Pocahontas Reframed. It is also a great learning experience for our students, faculty, staff, team members, and community members. Our students learn firsthand, volunteer, ask questions, have a chance to meet directors and writers, as well as local Indigenous community members. Watching the films and attending the discussions with writers, directors, and producers broadens our students' horizons, exposing them to local, national and global Indigenous issues." Members of the One VCU taskforce on Land Acknowledgment, in progress, were also present at the festival.
Several VCU students and faculty volunteered at Pocahontas Reframed this year and there will be opportunities in the future to continue to support the festival. Bradby Brown, the director of the film festival and a citizen of the Pamunkey tribe, remarked at the end of the festival: "The Pocahontas Reframed Film Festival is honored to be partnering with the HRC at VCU. The Festival allows students, faculty, and citizens from Richmond, the Commonwealth, and other states to learn about, appreciate, and enjoy American Indian, First Nations, and Indigenous cultures, languages and cinema. As we begin planning our seventh annual festival, the support from VCU is integral to our mission."