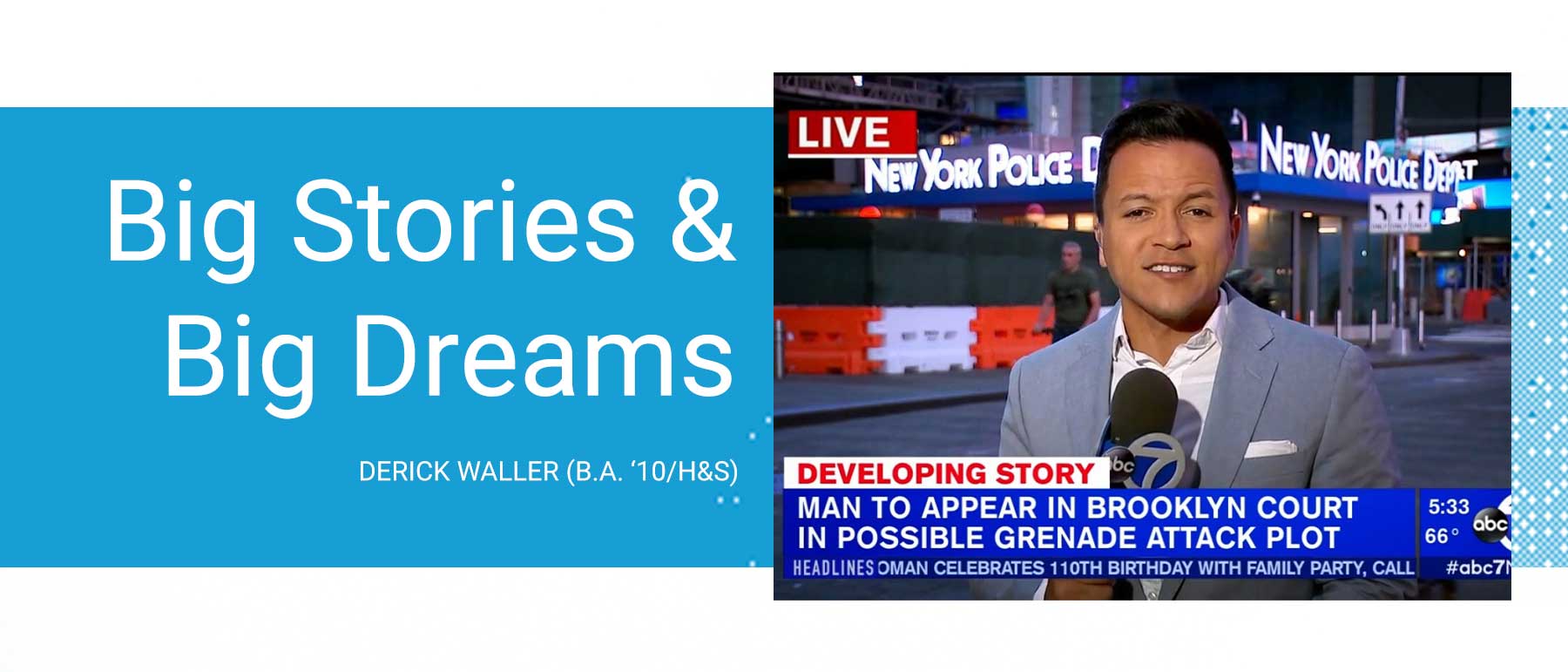 Big Stories and Big Dreams
Derick Waller (B.A. '10/H&S)
In 2009, Derick Waller was an aspiring journalist taking classes in mass communications at Virginia Commonwealth University. Enrolled in Advanced Television Newsgathering under the instruction of news reporter-turned-professor Bill Oglesby, Waller and his classmates were challenged to go out into the community and find a story. Waller went to Greensville County, 75 miles south of Richmond, where John Allen Muhammad, "the D.C. Sniper," was to be executed by lethal injection.
"It was a major national story happening in Virginia, and so as a student journalist I wanted to go," said Waller, now an on-air reporter at WABC-TV in New York. "There was press from all over the country camped outside the prison. I found and set up an interview with a relative of [a] victim. We did the interview in a hotel lobby and right after we were done, a crew from NBC4 in D.C. noticed what was going on and swooped in to interview him as well."
Oglesby, an associate professor in VCU's Richard T. Robertson School of Media and Culture, was impressed. "I remember how impressed I was with him gathering a story that was of statewide importance," Oglesby said. "He did that on his own. It showed enterprise."
More than a decade after that trip to Greensville County, Waller is still covering the big stories, now at the most watched station in the nation's largest media market. Last month, he won two New York Emmy Awards for being part of the WABC team on a winter weather special and for outstanding morning newscast for the station's coverage of a deadly shootout in Jersey City, New Jersey. He won his first Emmy last year for best morning newscast. In September, he covered the devastating flash floods that broke out in the northeast from the remnants of Hurricane Ida.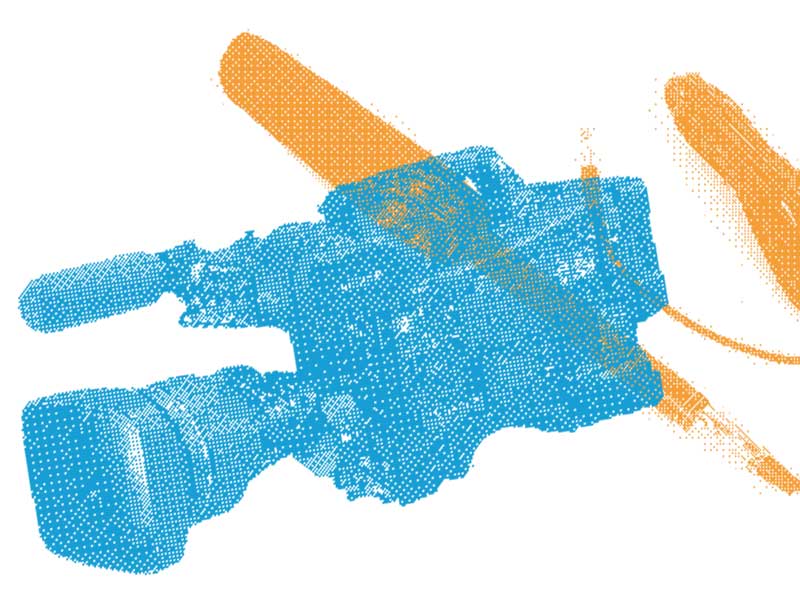 "I have covered hurricanes, but I never covered anything like that. It caught people by surprise and off guard," Waller said of the flooding. "Thirteen people died, mostly from flooded basement apartments."
On days when he feels sad after covering a tragic event like that one, Waller reminds himself that his lifelong goal was to work as a reporter in New York. The big stories — good and bad — come with the job.
"There are so many other journalists that want to be where I am, at the number one-operated station in the country," said Waller, who joined WABC in 2017.
Waller graduated from VCU in 2010 with bachelor's degrees in political science and mass communications from the College of Humanities and Sciences (the mass communications degree is awarded by the Robertson School). He landed his first job in television as an on-air reporter at WVIR in nearby Charlottesville. He worked in Charlottesville for one year, and then was stationed in Richmond as a state capital reporter during his second year at the station.
While it now feels natural to go on air live, Waller's first few days were difficult, he said.
"Doing live broadcasts is incredibly difficult. It's an unnatural skill," he said. "You have to know what you are talking about, but you don't want to ramble on. You have to write a script and present it as though you are not reading the script. You have to be conversational and hit your cues. You have to get the points right. Starting in a small market is so crucial because you can make mistakes on a small stage and not get into too much trouble."
Waller first became interested in journalism while attending James River High School in Midlothian, V.A., where he served as assistant editor and then editor of the school newspaper, the James River Current.
"I had an early interest in television. From a young age I wanted to be a weather person on TV. Later I was interested in current events and politics. I was curious about the world around me," he said. "I was thinking about what I could do for a living. I love journalism, and I love learning about the world. I also enjoyed the technical aspect of television as well as the behind-the-scenes aspect."
After graduating from James River, Waller came to VCU. There, everything clicked, he said. "I was learning how to do the news and I was super engaged in that."
As for the future, Waller doesn't see himself doing the same job he's now doing for the rest of his career. He loves traveling and has thought about doing something involving journaling and traveling the world. But for now, he said, he's still energized by his work as a reporter:
"I'm really happy where I am."