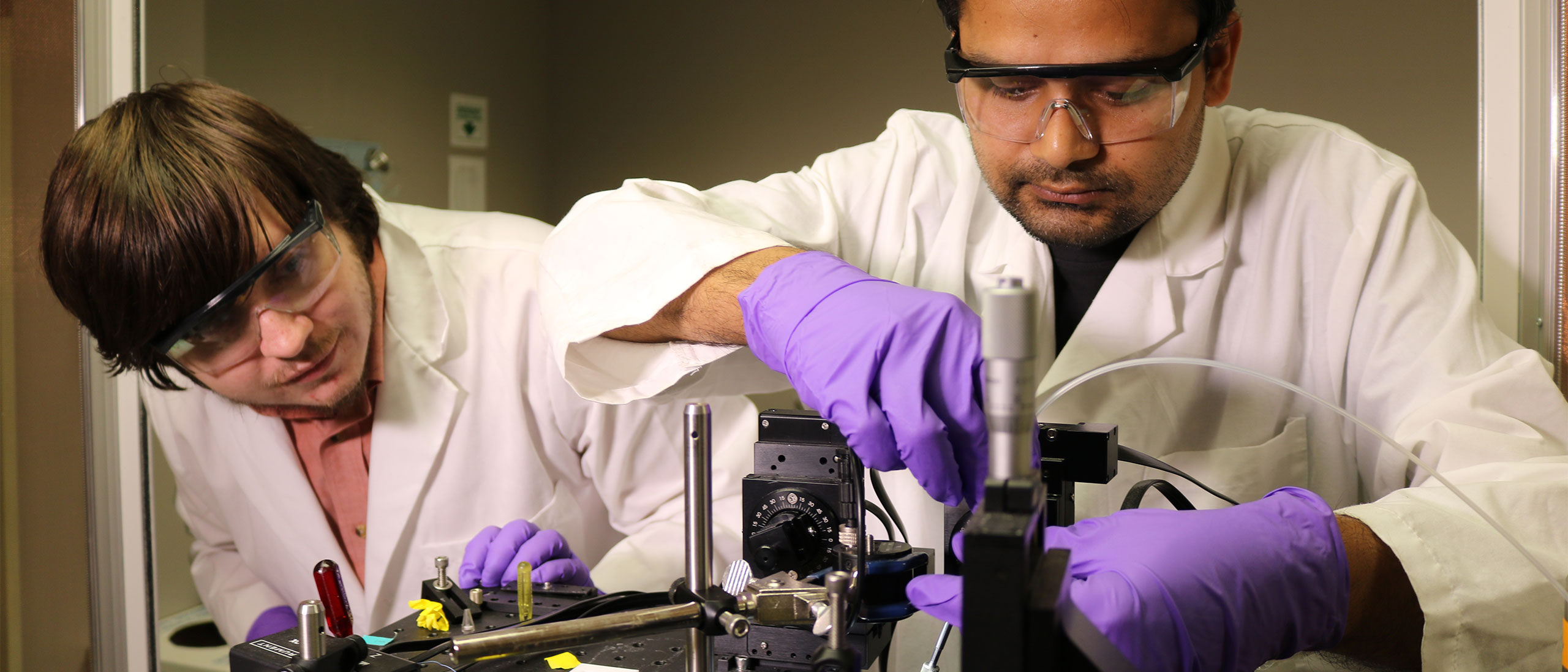 Student Research Opportunities
Discovery. Innovation. Commitment. What does research mean to you?
For our students, research is all of those things and more. Research means probing the unknown and following the thread of curiosity. It means hitting dead-ends and discovering new paths. It means developing deep relationships with scholars and mastering new technology. No matter your chosen field of study, all students benefit from the skills gained during the research process.
Funding for your research

You have the motivation, creative energy and ideas. We want to help you make it real with funding and scholarships. Learn more.
Tarek Haggy
Thanks to the Baldacci Experiential Learning Fund, Tarek Haggy, a student in the interdisciplinary science program and EMT for the Fredericksburg Rescue Squad, saw an opportunity. He proposed a comprehensive study on current pelvic binding protocols in emergency medicine. He also put forward an additional study on minority EMT workers, a personal interest to him as he is often one of the only minority EMT workers on the rescue squad. Haggy was awarded funding for the 2019-20 academic year.
Haggy is set to graduate in the spring, and plans to apply to medical school. Depending on the results of his initial study, it's possible that he'll carry this research with him to medical school.
"This whole experience thus far has been surreal. The initial venture began simply out of a need to satisfy my curiosity, but it has grown into something so much more than that," Haggy said. "The research process as an undergraduate has had an instrumental impact on my personal development. It's taught me things that no class could and provided early exposure to the professional world. It's strengthened my comprehension of scientific literature, my ability to reach out to establish connections, and so much more." Read more about Tarek's research.
Madihah Alam
Madihah always dreamed about becoming a doctor. VCU's Honors College Guaranteed Admission Program for medicine peaked her interest, but it was the research opportunities that sealed the deal. "One of the biggest reasons I decided to attend VCU was that I saw the amount of research opportunities available for undergrads. I also knew I would be able to shadow physicians at the VCU Medical Center," she explained. "It excited me that I could explore a variety of fields in such a nurturing environment."
In her four years on campus, she worked on three separate research projects that covered a variety of different disciplines: behavioral pharmacology, psychology and medicinal chemistry. "These research opportunities were so incredible," said Madihah. "I was able to delve into the research and expand my practical and analytical skills, allowing me to visualize the connection between bench and bedside."
In May 2019, Madihah graduated with a degree in psychology and double minors in biology and chemistry, and in August, she started medical school at VCU.
Thea Cheuk
The research paper Thea Cheuk wrote last spring on the DC Comics character Dick Grayson did more than combine Cheuk's interests in graphic arts and gender studies, it also led to a coveted internship at one of the comic industry's largest publishers.
Thea, a senior studying communication arts in the School of the Arts and gender, sexuality and women's studies in the College of Humanities and Sciences, wrote the 72-page paper under the guidance of Chris Irving, a communication arts professor. The paper explores the ways Grayson — the fictional superhero known as Robin and Nightwing — has been subtextually coded queer since his comics introduction in 1940. In April, as Thea was presenting the research at VCU's annual undergraduate research symposium, the Honors College student also was applying for summer internships at DC and Marvel Comics. Read more about Thea's research.
Nicholas Hattrup
Nicholas Hattrup, a student studying psychics and chemical engineering, got his first taste of research as a freshman at VCU. "I assisted in the synthesis of polymer encapsulated drugs – micelles," he recalls. "It was then that I learned the value of research by seeing how the understanding and engineering of new technologies could lead to the development of products that improved people's lives." Since that time, Nicholas has been busy in the lab.
Nicholas currently conducts research in with Professor Frank Gupton in the Department of Chemical and Life Science Engineering. "Day-to-day in the lab involves creating and analyzing various solid-state catalysis through analytic techniques and via many different synthesis methods such as continuous flow, microwave irradiation and SEA in batch," explains Nicholas. "These research opportunities are important to me because they allow me to refine my abilities as a scientist, as well as explore different areas of interest for future projects."
When Nicholas isn't in class or in the lab, you can find him working on Earth Hacks, an annual environmental based hack-a-thon that he hopes will become nationally known. After graduation, Nicholas hopes to pursue an engineering-focused doctorate with an emphasis in physics.