Students share stories of life-changing experiences made possible by Baldacci gift
May 1, 2019
Bestselling novelist and VCU alumnus David Baldacci met with students who have received awards through an experiential learning fund and a political science scholarship he created with his wife, Michelle. (Photo by Kevin Morley, University Relations)
Chemistry and Forensic Science student receives prestigious NSF graduate fellowship
April 16, 2019
Caitlin Cain, a senior majoring in chemistry and forensic science, has been awarded a National Science Foundation Graduate Research Fellowship, which recognizes and supports outstanding graduate students in science, technology, engineering and mathematics disciplines who are pursuing research-based master's and doctoral degrees.
Students get REAL
June 9, 2021
Six students share their hands-on learning experiences at VCU and what they got out of them.
At the General Assembly (sort of) with VCU's capitol semester students
Feb. 11, 2021
Interns at the Virginia State Capitol this legislative session are doing most of their work virtually. It's still "a very cool experience," they said.
VCU students in the Virginia National Guard reflect on a history-making mission
March 1, 2021
As they return to their studies, the students who were stationed at the U.S. Capitol earlier this winter share details of their experiences in Washington.
Class of 2021: Alexia Brown is on a mission to learn – and make the world a better place
May 6, 2021
"I want something that's going to make me want to get up in the morning, no matter how exhausted I am, with an energy that says, 'I gotta go. I gotta go do my work.' … There's so much work to do."
VCU P.R.I.M.E. empowers underrepresented students interested in health care careers
March 10, 2021
The student- and staff-initiated group identifies traditional barriers and develops strategies to help peers overcome them.
Student turns EMT experience into research opportunity
Nov. 25, 2019
"The research process as an undergraduate has had an instrumental impact on my personal development," Tarek Haggy said. "It's taught me things that no class could and provided early exposure to the professional world."
A new group virtually connects VCU student volunteers with local organizations
Jan. 19, 2021
Virtual Volunteer at VCU has paired hundreds of students with more than a dozen Richmond partners, creating a sense of community in a time of distance.
Do insecticide-treated mosquito nets harm sleep quality? This VCU student is aiming to find out.
April 9, 2019
Sarah Yankson will work on a study this summer in Ghana as one of a dozen recipients of grants from the College of Humanities and Sciences' Baldacci Student Experiential Learning Fund.
Class of 2021: Isaiah King's love of medicine leads to a new passion for research
March 23, 2021
King's experiences with the student organization Black Men in Medicine gave him the support and freedom to pursue his own path. Up next: A fellowship program at the National Institutes of Health.
Three VCU students named Critical Language Scholars
April 16, 2020
Three Virginia Commonwealth University students have been selected for the 2020 Critical Language Scholarship, a highly competitive scholarship funded by the U.S. Department of State for the study of 15 languages deemed critical to the United States' diplomatic and security interests.
Class of 2021: A mysterious illness couldn't derail Savannah-Zhané Jolley's journey to a VCU degree
May 7, 2021
Headaches and memory loss nearly derailed her final years of school. But thanks to her mother, the Department of Political Science and her own perseverance, Jolley will graduate this month.
Students in a VCU math class have published six research papers in top journals. More are on the way.
Feb. 2, 2021
The undergraduate students in "Introduction to Mathematical Biology" are applying math concepts like game theory to better understand and tackle infectious diseases and other real-world problems.
Class of 2021: George Kahingo helps his fellow students grow as leaders
April 26, 2021
Kahingo, a biology major, is a leadership involvement ambassador in the Division of Student Affairs, a role that connects him with dozens of student organizations and hundreds of peers across campus.
13 from VCU named Fulbright semifinalists for 2021-22
March 2, 2021
Recipients of Fulbright grants are selected based on academic or professional achievement, as well as demonstrated leadership potential in their fields.
Real research: Future nurse finds rewards in research's potential to better understand others
April 27, 2021
Nayab Mughal has been involved in three studies, giving her the chance to learn how the pandemic has affected the experiences of both pregnant and hematopoietic stem cell transplant patients.
Podcast by VCU students on graffiti-covered Confederate monuments named a finalist in NPR national contest
April 7, 2021
A podcast by VCU students, "When Time Slows Down," is one of 10 finalists in the NPR Student Podcast Challenge: College Edition. Winners will be featured in segments on "Morning Edition" or "All Things Considered."
Class of 2021: Alex Trainham excels inside and outside the classroom
April 20, 2021
Long fascinated with computers and audio engineering, Trainham was introduced to coding at VCU and will graduate next month with degrees in computer science and mathematical sciences.
At 'Meet the Press,' a VCU journalism student provides key research behind the scenes
Aug. 18, 2021
Josephine Walker, a rising senior interning at the NBC program, spent her summer providing research for interviews, as well as drafting questions to ask political leaders appearing on the show.
Class of 2021: Raven Witherspoon is pursuing a career in physics to help improve the world
March 29, 2021
The VCU Honors College student hopes to help reduce the number of nuclear weapons in the world and "transfer those materials into peaceful uses like civil nuclear energy."
Hundreds of students are volunteering and providing shots at vaccination events
Feb. 8, 2021
With some VCU students already trained and others lined up for training, volunteers are ready to address the need for more COVID-19 vaccinators and take on roles that will serve them in their careers.
Report from the field: A new wilderness practice and policy study abroad course in Patagonia
Feb. 2, 2020
Jordan Rasure was one of 11 students who participated in the Patagonia National Parks Comparative Analysis of Wilderness Policy course/study abroad trip during winter break 2019.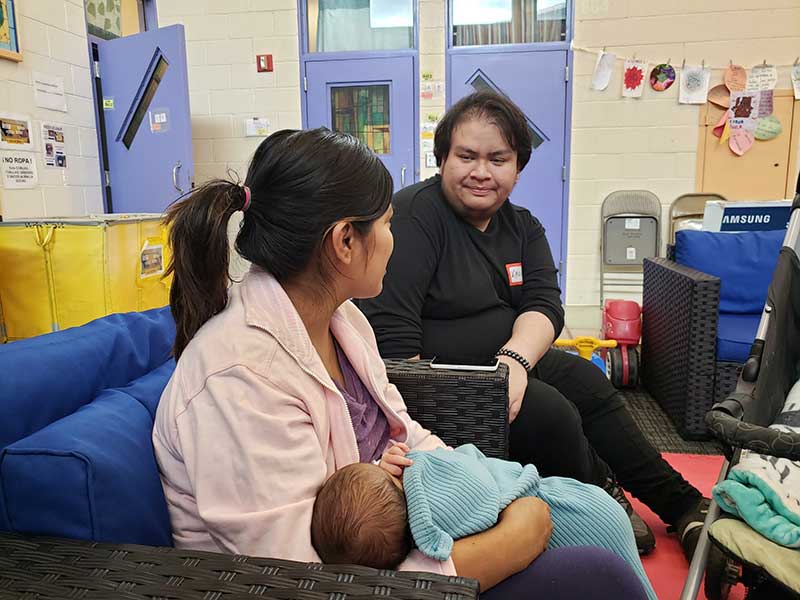 Helping the Hispanic community in the midst of the pandemic
April 2, 2021
Students in the VCU service-learning course Hispanic Immigrants in the U.S. are continuing to make a difference.
Undergraduate students present research to industry partners
April 7, 2021
NASA, Altria and GSK are just a few of the national companies that participate in the annual Chemistry Undergraduate Research Symposium.