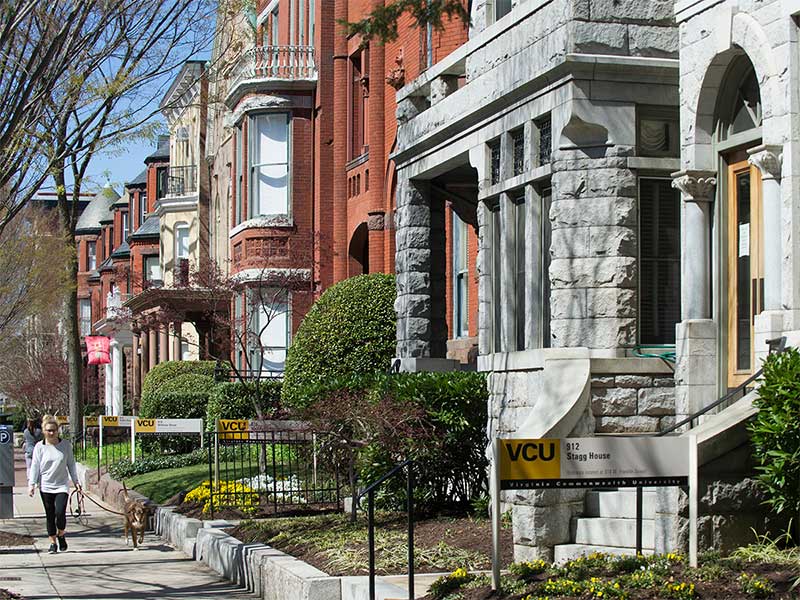 Read the May '21 alum newsletter
May 11, 2021
Enjoy the latest articles about the research, achievements and successes of our students, faculty and alums. Feel the Ram pride!
Students share stories of life-changing experiences made possible by Baldacci gift
May 1, 2019
Bestselling novelist and VCU alumnus David Baldacci met with students who have received awards through an experiential learning fund and a political science scholarship he created with his wife, Michelle. (Photo by Kevin Morley, University Relations)
Class of 2021: Problem solver Carlos David Jimenez Morales wants to make an impact on health care
May 5, 2021
Later this month, he will become the first graduate of VCU's Graduate Certificate in Health Care Innovation program.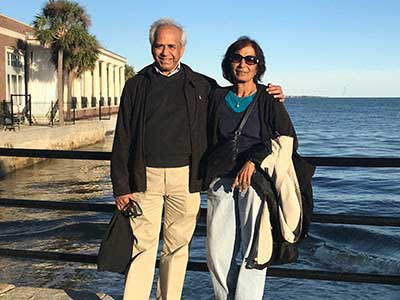 The Jenas give to honor VCU's impact on their family
April 26, 2021
Tripti Jena, M.D., and Purusottam "Puru" Jena, Ph.D., credit much of their family's well-being to the careers and community they found when they joined Virginia Commonwealth University in 1980.
VCU alum breaks into Richmond restaurant scene
April 19, 2021
Ashley Patino is founder of local bakery and pizza shop, Pizza Bones.
What would Donna Reed do?
March 26, 2021
VCU graduate Annie Newton discusses "The Donna Reed Show" and how Reed, a celebrated actress, shaped feminism in the 1950s and 60s.
VCU alum receives Fulbright research award
March 4, 2021
Dylan Naltraj David travels to his homeland, Trinidad, to conduct cancer research.
VCU alum establishes the Reuben Farley Award for Teaching Innovation and Excellence
Feb. 25, 2021
This award is given to two faculty members, one tenure track faculty and one term faculty, in the Department of Mathematics and Applied Mathematics.
VCU alum publishes research about a famous female aerialist
March 2, 2021
Aíne Norris is a writer and instructor of English and American literature.
Ana Edwards is preserving Black history — and sharing it with others
Feb. 23, 2021
The VCU alumna and chair of the Sacred Ground Historical Reclamation Project, will receive the VCU history department's highest honor for graduate alumni March 18.
VCU alum's novel long-listed for the PEN/Faulkner Award
Feb. 17, 2021
Brian Castleberry's debut novel is "Nine Shiny Objects."
VCU alum works on COVID-19 response team in Hawai'i
Feb. 9, 2021
Joanna Kettlewell, Ph.D., is a scientist specializing in infectious disease.
Women are changing the advertising industry, and it's leading to better, more authentic ads
Feb. 5, 2021
As another Super Bowl comes and goes, a VCU Robertson School panel says improving gender diversity in advertising is leading to better storytelling and more opportunities for underrepresented voices.
Two VCU grads named to list of inspiring Black scientists
Feb. 2, 2021
Tiffany Rolle and Nisan Hubbard have been recognized by the website Cell Mentor. Both honed their research skills through VCU's Center on Health Disparities.
GSWS alum takes on public health ethics
Jan. 28, 2021
Ris Rodina is pursuing their master of public health at VCU with a focus on complex trauma related to trans and non-binary identities.
Class notes: January 2021
Jan. 28, 2021
Catch up with all the latest and greatest news from CHS alumni.
Alumni spotlight: Janet Lung (BA '72, MSW '80)
Oct. 7, 2020
Janet Lung is a proud VCU alumna and an incredible member of the community. She served as the director of the Office of Child and Family Services for the Virginia Department of Behavioral Health and Developmental Services, where she connected hospital services to children and youth. Janet recently reflected on her time as a student at VCU and how her experience as a student impacted her professional life.
Five VCU alumni selected for 2020-21 Fulbright student scholarships
July 20, 2020
These academic year awards can fund independent research or creative projects, graduate study or English teaching opportunities in more than 140 countries around the globe.
VCU alumna's journey to the Virginia capitol
Jan. 19, 2021
Aja Moore '19, a graduate of the Department of Political Science, serves as a policy assistant to Governor Ralph Northam.
Alum's art projections transform the Lee monument — and land the cover of National Geographic
Dec. 14, 2020
Since the spring, artists Dustin Klein and VCU graduate Alex Criqui have projected onto the monument images that have transformed it into a "symbol of liberation."