VCU professors' study aims to encourage actions to protect the James River
May 22, 2020
Public relations and advertising faculty have received a grant to examine how digital media messaging could more effectively promote public action to improve the river's water quality.
The College of Humanities and Sciences celebrates its graduates
May 21, 2020
How do you honor graduates while a global pandemic rages on? Personalized slideshows, Zoom ceremonies and commencement speakers.
VCU public relations students win community award for their work with local foundation
May 20, 2020
The Community Impact Award is part of the student awards category of the Virginia Public Relations Awards, hosted by the Richmond Chapter.
Most implicit bias training in health care lacks proper foundation, research finds
May 20, 2020
In a forthcoming paper in The Lancet, a VCU psychology professor says such training should be grounded in a clinical translational framework to address racial and ethnic disparities in health care.
CHS student award winners for 2019-20
May 13, 2020
The College of Humanities and Sciences extends congratulations to these students for rising to the top and achieving recognition within their respective fields of study.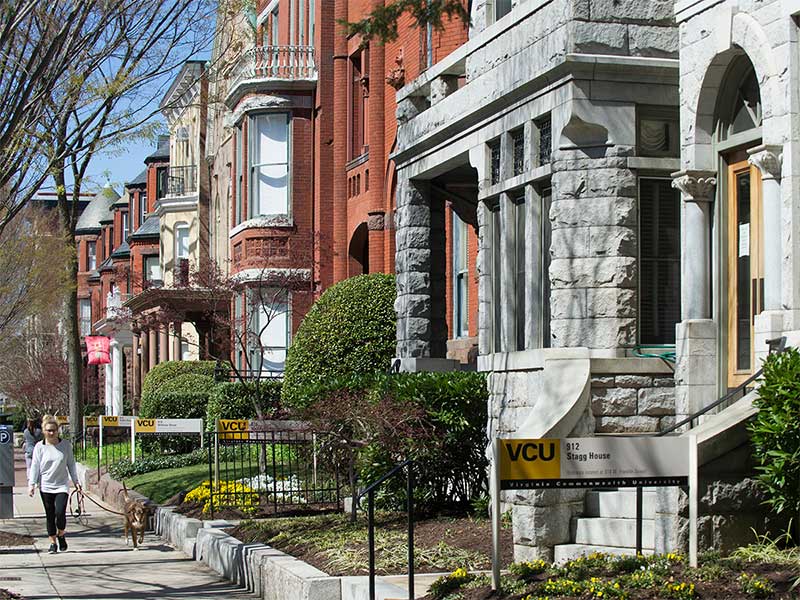 Read the May '20 alumni newsletter
April 13, 2020
Enjoy the latest articles about the research, achievements and successes of our students, faculty and alumni. Feel the Ram pride!
A VCU grad is organizing volunteers to help meet free clinic needs across Virginia
May 12, 2020
Soon, clinics across the state will have access to interpreters, physicians, nurses, mental health professionals, dietitians, social workers, and more through Zuhayr Shaikh's growing network.
Class notes: May 2020
May 12, 2020
Catch up with all the latest and greatest news from CHS alumni.
Not all psychopaths are violent. A new study may explain why some are 'successful' instead.
May 12, 2020
A new study conducted by VCU researchers sheds light on the mechanisms underlying the formation of "successful" psychopaths.
How to handle digital communications in a pandemic
May 11, 2020
A VCU class, Digital Media Strategies for the COVID-19 Crisis, is helping people learn how to effectively communicate in unprecedented times.
Three VCU students win National Security Education Program's Boren Scholarship
May 11, 2020
Kelly Nguyen, a junior majoring in political science in the College of Humanities and Sciences and in international studies within the School of World Studies, is one of the recipients.
'Creative, flexible and resilient': How VCU faculty and students adapted to remote learning
May 5, 2020
A glance at the innovative ways professors and students continued their work in these unprecedented times.
VCU students gain broadcast experience through a radio show they created
May 5, 2020
"The idea was to present a completely transparent screen to the listener," said Ben Fluet, the show's co-creator.
Stuck at home? A VCU lab can help you build 3D cardboard replicas — like one of the world's oldest ham.
May 4, 2020
The university's Virtual Curation Laboratory is providing fun, educational activities — including constructing replicas of a mastodon tooth, a giant beaver skull and even an Egyptian mummy.
2020 PACME awards recognize individuals and groups who have made exemplary contributions
May 1, 2020
Holding the event online allowed many beyond the VCU community to celebrate the winners' achievements.
Class of 2020: A near fatal accident didn't divert Skyler Lewis from her pursuit of an education
May 1, 2020
Lewis, who broke her back and neck in five places in a car crash in 2017, will accomplish a long-held goal this month of graduating from VCU in four years.
The special guest in a VCU class on Academy Award-winning filmmaker Errol Morris? Morris himself
April 30, 2020
"How often does the subject of your seminar actually appear in your seminar?"
An untested foundation? A VCU study finds that many published psychology experiments lack evidence of validity
April 30, 2020
"Construct Validation of Experimental Manipulations in Social Psychology," a study conducted by VCU's David Chester and Emily Lasko, focuses on the practice of experimental manipulations.
New online course offers forward-looking focus to news stories during the COVID-19 pandemic
April 29, 2020
"Solutions journalism is an innovative approach, especially in these times of crisis, to go beyond the headlines."
Physicist prints 3D models of cancer cells to mimic tumor growth and provide insight for novel therapeutics
April 24, 2020
Daeha Joung, Ph.D., uses physics and three-dimensional printing technology to make live models of tumor cells for VCU Massey Cancer Center investigators to better understand disease progression and explore new therapeutic opportunities.
Robertson School alumna launches Spanish news platform for ABC 8 News
April 28, 2020
"Hoy en RVA" is a daily video that helps the Richmond Hispanic audience understand developments that could affect them.
Alumni Profile: Kahin Adam (BA '09/H&S)
April 27, 2020
Kahin Adam, MPH, MSW, LGSW, is a community health specialist at CentreCare, one of the biggest health centers in St. Cloud, Minnesota.
Alumnus honors memorable faculty heroine with memorial scholarship
April 24, 2020
While it seems just like yesterday, it was actually more than 50 years ago when as teenage boy just out of high school, I walked into a college political theory class for the first time. There was nothing extraordinary about that except I happened to have no clue what political theory was all about. And that is where this story begins.
VCU student Desiree Longmire is examining why so few physician assistants focus on gerontology
April 24, 2020
Desiree Longmire's conversations with her grandparents about their health influenced her decision to become a physician assistant and led to a research project to determine how many physician assistant programs in the U.S. offer a gerontology curriculum.
Class of 2020: 'Once-in-a-lifetime student' Kevin Nguyen embraces the strategic side of advertising
April 22, 2020
Nguyen's dynamic efforts, unifying energy and interest in people brought an influx of programming to VCU's ad program.
CreateAthon@VCU goes virtual, providing pro bono services for Richmond nonprofits
April 22, 2020
"Creating work for our client … allowed me to channel my newfound free time into something productive and beneficial for an organization that I've come to truly care about over the course of the semester."
Expert on Eastern Europe health care voices concern about COVID-19 in Russia and Ukraine
April 22, 2020
"There are real questions about the ability of these health systems to handle something major."
VCU instructor Jessica Lonnes is teaching her classes from a car parked outside a rural N.C. library
April 21, 2020
When her mother unexpectedly died, Lonnes found herself attending to the estate and living in a home without broadband. She's been teaching her four classes by tapping into a local library's Wi-Fi.
Class of 2020: Georgia Geen helped VCU's student newspaper become one of the country's best
April 21, 2020
Geen, executive editor at The Commonwealth Times and a VCU journalism student, is set to start an internship this summer at the Los Angeles Times.
They send medical supplies to those in need worldwide. Now this VCU group is focusing locally.
April 16, 2020
Every Friday for the past four years, Virginia Commonwealth University students volunteering with the student organization United2Heal have been sorting through surplus medical supplies collected from local hospitals and clinics.
Three VCU students named Critical Language Scholars
April 16, 2020
Three Virginia Commonwealth University students have been selected for the 2020 Critical Language Scholarship, a highly competitive scholarship funded by the U.S. Department of State for the study of 15 languages deemed critical to the United States' diplomatic and security interests.
Been baking sourdough? We spoke with a VCU biology professor who teaches Yeast and Fermentation about the friendly microorganism.
April 13, 2020
Everybody is stuck at home and everybody is seemingly baking bread. VCU biology professor Fernando Tenjo shares why yeast and fermentable foods are so captivating.
A born mentor
April 8, 2020
Alumnus Stephen Andrews, Ph.D., finds his post-retirement calling helping VCU students.
VCU students provide Spanish translation of children's book for citywide school reading program
April 8, 2020
When the organizers behind One Richmond One Book, a citywide elementary school reading program, were deciding to give Richmond Public Schools students "The Toothpaste Millionaire" by author Jean Merrill as its common book this spring, program coordinator TaLees Owens realized there was a problem: There wasn't a Spanish translation for the material.
Alumni spotlight: Iresha Picot (H&S '07)
April 2, 2020
Iresha Picot (B.A., African American Studies and Gender, Sexuality and Women's Studies) M.Ed, LBS, is a licensed behavior specialist and the clinical lead at The Center for Autism in Philadelphia.
'I've never seen anyone do a better job': Longtime VCU journalism professor Jeff South to retire
April 1, 2020
After 23 years at the Richard T. Robertson School of Media and Culture, Jeff South, an associate professor of journalism, will retire in May.
Departments in the College of Humanities and Sciences are donating protective equipment to VCU Health
April 1, 2020
'Everyone seems, even if momentarily, uplifted by the idea of helping our colleagues on the MCV campus respond to those that are most vulnerable.'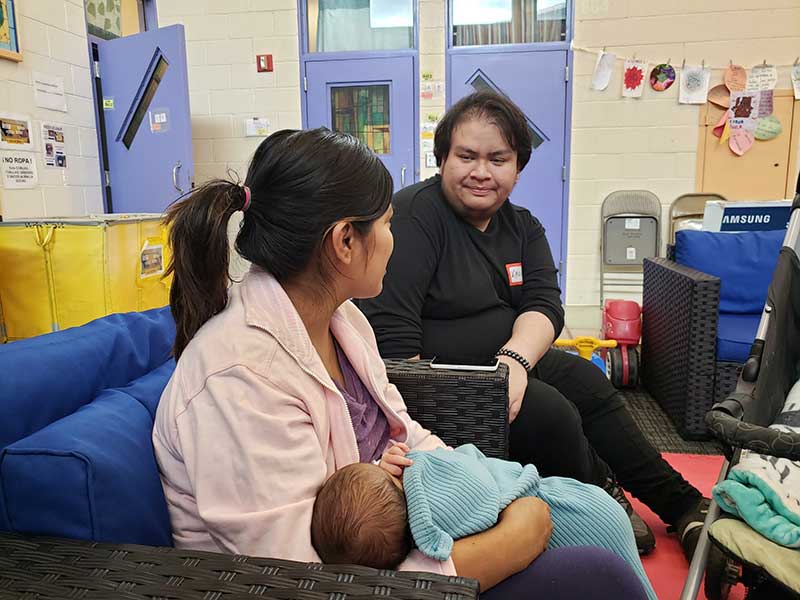 At the U.S.-Mexico border, a sobering, eye-opening look at immigration
March 31, 2020
A VCU community service visit to Arizona earlier this semester offered students a chance to move beyond theory and better understand the reality of immigration in the United States.
6 tips to improve your health while teleworking during the coronavirus outbreak
March 27, 2020
Ryan Garten conducts research on prolonged sitting and cardiovascular health, and offers steps to avoid developing back and neck problems.
New VCU online course focuses on media strategy during COVID-19 pandemic
March 23, 2020
Digital Media Strategies for the COVID-19 Crisis is being offered by the Richard T. Robertson School of Media and Culture in the College of Humanities and Sciences, in partnership with the VCU Office of Continuing and Professional Education.
'A way to stay connected to VCU': Amid pandemic, The Commonwealth Times continues to publish
March 19, 2020
The COVID-19 outbreak has forced the student newspaper to stop printing, but staff continue to publish stories online.
A message of hope and health for alumni and friends during the COVID-19 crisis
March 18, 2020
Interim Dean Don Young offers resources for alumni and friends for coping with our current challenges.
How to cope with COVID-19 anxiety, stress, irritability and uncertainty
March 18, 2020
VCU psychology professor Michael Southam-Gerow offers advice for preserving mental health amid the coronavirus.
Immigration course provides VCU students with a better understanding of a national issue
March 11, 2020
The sociology course, taught by Gabriela León-Pérez, examines the history of immigration and how the current debate ties to the past.
VCU English professor named a Society for the Humanities fellow
March 5, 2020
Adin Lears, Ph.D., an assistant professor of English at Virginia Commonwealth University, has been named a fellow at the Society for the Humanities at Cornell University for the 2020-21 academic year.
A VCU professor and student are visiting Pacific islands, exploring how they are adapting to the threat of climate change
March 3, 2020
"People are not planning for out-migration," said Andrea Simonelli, an assistant professor of political science. "They are focused on preserving their way of life for as long as they can."
Jennifer Malat named dean of VCU College of Humanities and Sciences
March 3, 2020
Malat currently serves as divisional dean for social sciences in the College of Arts and Sciences at the University of Cincinnati.
This Alumni Life: Lisa Hines-Johnson (B.A. '95/MC)
March 2, 2020
This video is part of a new series, "This Alumni Life," where we highlight exceptional CHS alumni who are making a difference in today's world.
Class notes February 2020
Feb. 27, 2020
Catch up with all the latest and greatest news from CHS alumni.
'I'm on TikTok guys, so follow me!': VCU alumni offer a peek into life as an influencer
Feb. 26, 2020
Joey Zauzig, Kait Curnow and Nickelus F are part of an industry diverting millions of dollars from traditional advertising. In the worlds of fashion, beauty and hip-hop, they wield massive influence.
A VCU student's project revealed an ancient Egyptian mummy's face. It's now on display at a museum.
Feb. 25, 2020
The mummy, Nesiur, was "digitally unwrapped" using CT scans. VCU student Mason Smith, along with a VCU forensic anthropologist, used the data to generate a facial approximation.
Activism, equity, basketball: Charles McLeod and the start of VCU's first black student organization
Feb. 21, 2020
50 years after he and classmates formed Students for Afro-American Philosophy, McLeod — VCU's first black basketball player — reflects on why he fought for change.
Q&A: Why folk saint Santa Muerte should be considered the 'matron saint of the Mexican drug war'
Feb. 18, 2020
A new paper by VCU professor R. Andrew Chesnut, Ph.D., and University of Alberta professor Kate Kingsbury, Ph.D., reveals the death deity is venerated by both sides of the drug war.
Author of 'Gay on God's Campus: Mobilizing for LGBT Equality at Christian Colleges and Universities' to speak at VCU
Feb. 17, 2020
Jonathan Coley, Ph.D., an assistant professor of sociology at Oklahoma State University, will speak about his book on Wednesday, Feb. 19, at 4:30 p.m. in Room 250 of James Branch Cabell Library, 901 Park Ave.
For older adults, 'hope' may be a key piece for improving health, psychological and social well-being
Feb. 14, 2020
VCU professor emeritus Everett Worthington, Ph.D., is co-author of a new study that sheds light on the role of hope in improving the lives of an aging population.
VCU Catholic studies lecture series to offer three public talks, including one on 'Catholic UFOs'
Feb. 13, 2020
As part of the Bishop Walter F. Sullivan Lecture Series at Virginia Commonwealth University this spring, three scholars will deliver public talks on topics such as the material culture of Catholic men, the Cold War's liberation theology legacy, and "Catholic UFOs."
Cottom earns top honor from American Sociological Association
Feb. 7, 2020
VCU professor recognized for advancing public understanding of sociology.
Love stories: A College of Humanities and Sciences Valentine's Day special feature
Feb. 5, 2020
Happy Valentine's Day! To celebrate, we've profiled three couples who found love at CHS. Find out what made the sparks fly between these love birds.
The power of an English degree: Jim O'Connor (B.A. '93/H&S)
Feb. 4, 2020
"My literature classes prepared me for the business world more than anything. I draw from my English degree all the time. I'm absolutely convinced my liberal arts background has been a great point of leverage for me."
VCU spring speaker events to feature authors of 'Stolen,' 'Thick' and other critically acclaimed works
Jan. 24, 2020
The Humanities Research Center will also feature speakers as part of a series on "Borders, Boundaries and Global Frontiers."
For VCU's Capital News Service, student journalists cover massive gun rights rally
Jan. 23, 2020
Conor Lobb, Chip Lauterbach and Jeffrey Knight volunteered to cover the massive rally on Monday that brought 22,000 gun rights advocates to the State Capitol in Richmond.
How alumna Chandelis Duster went from VCU to covering breaking politics news for CNN
Jan. 23, 2020
She told the crowd of students to learn everything possible and to be open to a variety of journalism career opportunities.
In New Hampshire, VCU students get behind-the-curtain look at presidential primary politics
Jan. 22, 2020
A class of VCU political science students spent 10 days embedded in the New Hampshire primary, and met Elizabeth Warren, Cory Booker, Andrew Yang and others.
Thriving by design
Jan. 21, 2020
Robertson School graduate discovered talents that guided her career path in an unexpected direction.
New 'Bad Boys' film taps expertise of VCU's Santa Muerte scholar
Jan. 17, 2020
"Much of her pop culture appeal is connected to surging interest in narco-culture, and one of Santa Muerte's many diverse roles as folk saint is that of narco-saint," says VCU expert Andrew Chesnut.
At VCU, 170 experts gather to focus on solutions to opioid crisis
Jan. 16, 2020
Participants were encouraged to "drive toward solutions and breaking down of silos" among law enforcement, medical, scientific and treatment professionals.
Rethinking resolutions
Jan. 15, 2020
VCU faculty share outside-the-box New Year's resolutions that can help you get the most bang for your buck.
An often-made claim that e-cigarettes are '95% safer' is not valid
Jan. 8, 2020
Thomas Eissenberg of the Center for the Study of Tobacco Products at VCU was one of six experts who investigated the claim and found it unreliable and outdated.
VCU biology professor receives $1.3M grant to study membrane transport pathways in yeast
Jan. 9, 2020
"We are interested in understanding the different ways that cells internalize material," said Derek Prosser, an assistant professor in the Department of Biology.