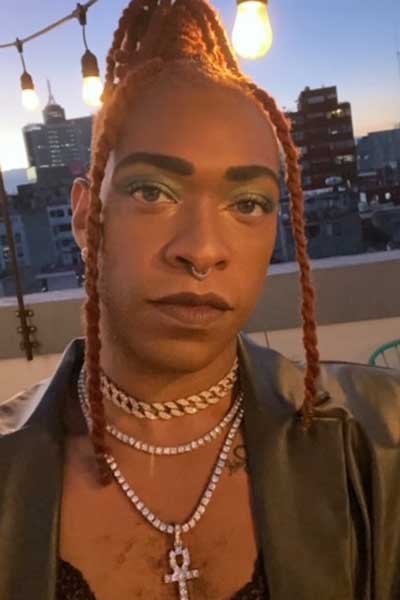 Julian Glover, Ph.D.
Job title:
Assistant Professor
Affiliation:
Department of Gender, Sexuality and Women's Studies
Dr. Glover's research focuses on Black/brown queer cultural formations, performance, ethnography, embodied knowledge and performance theory.
Julian Kevon Glover, Ph.D., is an academic, activist and performer who graduated with honors from Southern Illinois University Edwardsville, holds an M.P.A. from Indiana University's O'Neill School of Public and Environmental Affairs (2015) and earned a Ph.D. in African American studies at Northwestern University (2020).
Their research focuses on Black/brown queer cultural formations, performance, ethnography, embodied knowledge and performance theory. They were awarded a Franke Fellowship at Northwestern's Kaplan Institute for the Humanities and their work appears in journals including American Quarterly, the Harvard Kennedy School LGBTQ Policy Journal, Souls and Text & Performance Quarterly. In 2019, they were inducted into the Edward A. Bouchet Graduate Honor Society at Yale University and is a longtime member of the ballroom scene. They have also worked with the Grammy Award-winning Swedish singer Robyn and appeared in the music video for the title track of her 2018 album Honey. A classically trained cellist, their creative work is multidisciplinary and engages sonic, visual, affective, written and kinesthetic registers with the aim of bringing viewers into critical dialogue with themselves towards psychic, spiritual and interpersonal transformation.
---
Q&A with Dr. Glover
Where did you grow up? Can you tell us a little about your educational journey?
I was born in Dayton, Ohio, but grew up in Bloomington, Illinois, which is located in central Illinois, which is about 2.5 hours away from Chicago. My educational journey has been rather straight forward and reflects my wide range of interests—including music (I'm a classically trained cellist), public relations, nonprofit management/organizational leadership, performance studies, black studies, dance and choreography, gender/sexuality/women's studies and black studies—all of which congeal to make me a capacious scholar.
When did you first fall in love with your field of study? What made you decide to work in academia?
I fell in love with my fields of study following disenchantment with other career paths. Despite the fact that I am 29 years old, I've had three distinct career paths—as a public relations manager, nonprofit practitioner and now as an academic. I left public relations because I wanted to do work that had meaning to me beyond exerting influence over the media, services and products that people consume. While working with queer organizations in the nonprofit sector enabled me to do meaningful work, I was not able to ask the type of questions that were most pressing to me—namely, why do queer Black, Latinx and Afrolatinx people, especially nonbinary femmes and transgender women, continually experience myriad forms of marginalization and anti-black (psychic, physiological, physical and spiritual) violence despite purported legislative, educational and cultural advances? This type of question led me to Black studies which I necessarily understand as a critique of western modernity writ large.
I did not take my first bona fide gender/sexuality/women's studies course until I was in graduate school completing a master of public affairs degree. I knew from the moment the professor opened their mouth that I had found my calling as they beautifully demonstrated the strengths and benefits of interdisciplinary thinking. I quickly pivoted from public affairs to begin a Ph.D. program and decided that academia was the place where I might have the widest reaching and effective impact on people.
Can you explain the focus of your research?
My research investigates how Black, Latinx and Afrolatinx queer people, specifically transwomen, respond to social, economic, cultural and political marginalization through the deployment of specific strategies, tactics and tools designed to enable them to acquire the human and material resources to survive and thrive in a world hellbent on their annihilation. My work focuses on healthcare, employment and notions of "realness" among Black, Latinx and Afrolatinx transwomen who are part of the ballroom scene—a cultural formation of (mostly) urban Black and Brown LGBTQIA+ people who join houses and compete against members of other houses in an array of categories for prizes that range from trophies to $10,000 cash prizes.
What attracted you to VCU? What are you most excited about in regards to VCU and Richmond?
I love Richmond's topography with its rolling hills, and the food here is also beyond stellar. VCU's intellectual community deeply excites me and I'm thrilled that campus, especially Monroe Park, feels so arts inclined and socially conscious. I feel well supported to create new, groundbreaking and cutting-edge work that will be understood and well received by students, faculty and staff alike.
Can you talk a little about your teaching philosophy? What do you most like about teaching?
I approach teaching as an opportunity to invite students to develop their critical thinking skills and approach interrogation by focusing on the quotidian—the experience of everyday life—as the point of departure, such that students are encouraged to question practices, ideas and behaviors that appear to be "normal" within society at the personal, interpersonal and institutional/structural levels. Such an approach enables me to promote the development of critical thinking skills amongst students by affirming nuanced investigations, challenging reductive analyses and supporting their inquiries in a discussion-based course.
Teaching is also an opportunity to combine theory and praxis. I model self-reflexivity as an apt tool designed to promote personal growth through the sharpening of critical thinking skills such that students leave the classroom with a capacious understanding of themselves which ultimately transforms their skill sets for whatever intellectual, political or artistic/creative endeavors they may pursue in the future.
Can you tell us either a quirky fact about yourself or some of your hobbies?
Growing up, I had a pretty famous babysitter (Michelle Williams of Destiny's Child) and my hobbies include listening to music (my musical palate is very wide to say the least), chilling with friends, planning outfits for upcoming events, enjoying delicious meals (I'm a huge fan of Caribbean, Indian, and Ethiopian foods) and traveling as much as possible.