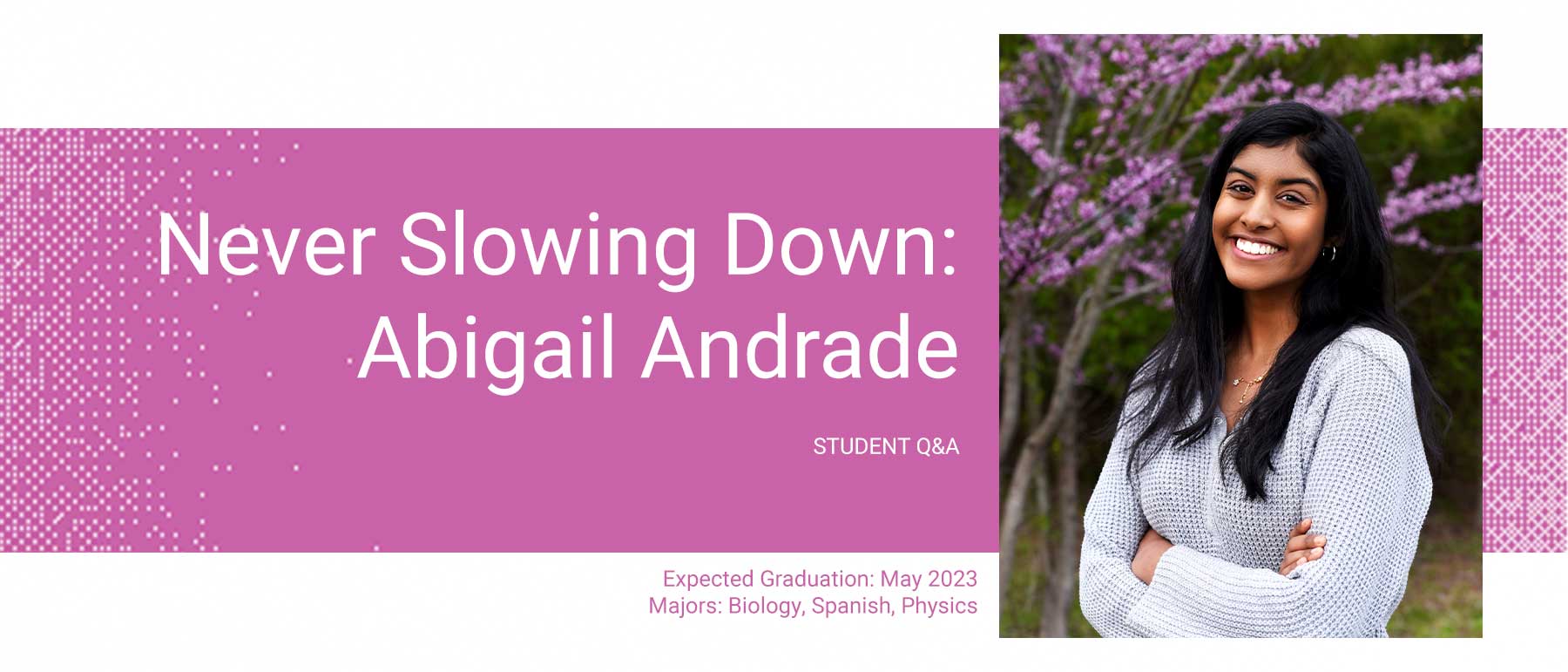 Never Slowing Down: Abigail Andrade
Student Q&A
Expected Graduation: May 2023
Majors: Biology, Spanish, Physics
Abigail Andrade likes being busy. She is a triple major (yes, TRIPLE) who splits her time between the Departments of Biology, Spanish and Physics. When she's not in class, Andrade can be found tutoring fellow students, assisting with lab research, volunteering with several campus health-focused orgs, like Collective Corazon and the Heroes Club, or responding to EMT calls.
Get to know this very busy future doctor.
Why did you choose VCU?
I chose VCU because I loved the campus and the diverse environment. I knew that I belonged at VCU because it just immediately felt like home the first day that I walked onto campus and I didn't feel like that at the other colleges that I visited. VCU also has an incredible program for biology which is my primary major so I was also attracted to that. And it is close, but far enough away from my home in Northern Virginia, which really helped me grow in my independence.
What led you to a triple major?
Since I am on the pre-med track, it felt natural to go the biology route as the classes aligned with the requirements for medical school. (I also love biology and those were my favorite classes in high school, so it just felt like a perfect fit for me.) I took Spanish throughout middle and high school and absolutely love the Spanish language and culture. I hope to study abroad in my last semester. Finally, in my first year at VCU, I discovered a love for physics. I am part of a research lab in the physics department, and my PI, who is a physics professor, encouraged me to take it on as a major. With his encouragement, I took on physics because I knew that although it would be challenging to balance my time with three majors, it would be worth it because of my interest in all three fields.
You were awarded a RISE Fellowship, which provided you with a summer research opportunity in Germany. Can you tell us a little about the program?
I decided to apply to the RISE program after attending a seminar held by the National Scholarship Office. The program combines my loves for research and for travel. I was really interested in an immunology project held at the University Hospital in Kiel and reached out to the supervisors of that laboratory. I applied for the internship and I'm so lucky to be a part of the project. I really grew my research skills in this lab and learned more about the immunology field. Also, I was able to travel throughout Europe during the summer, experiencing new cultures and gaining new perspectives during my trip.
You also volunteer as an EMT. Can you tell us more?
When I was just a child, I would listen to emergency vehicle sirens as they went by (we lived right behind a fire station) and I always wondered where they were going and why. I received my EMT certification in 2020. Becoming an EMT has truly opened my eyes to a new side of medicine and it has taught me so much. I've had some crazy calls during my time as an EMT and those experiences have fueled my interest in medicine even more. As a child, I was always curious as to what calls those ambulances were responding to. As an EMT, I am always curious about what is going to happen to the patients we transport to the hospital. That is why I would like to be a physician: to see the continuity of care for the patients that I see. I'm lucky to have had the experiences being an EMT has given me and to be able to have seen the other side of emergency medicine that doesn't happen in hospitals.
What are your plans beyond graduation?
I plan to attend medical school after graduation. It's been my dream to become a physician since high school and I hope to accomplish this one day. I am also very passionate about health disparities, especially faced by the Latinx and Hispanic communities and immigrants, around the world. Hopefully, I will get to use my role as a physician to work in nonprofit organizations, like Doctors without Borders, in underserved countries to help better their quality of life and increase their access to health care. In addition, I would like to obtain an MPH after completing medical school to advocate for improved health care access.