Faculty Profiles
Get to know Joann Richardson, Ph.D., an associate professor in the Department of Kinesiology and Health Sciences, and Judy Twigg, Ph.D., a professor in the Department of Political Science, two faculty members who share a deep commitment to VCU and the wellbeing of others.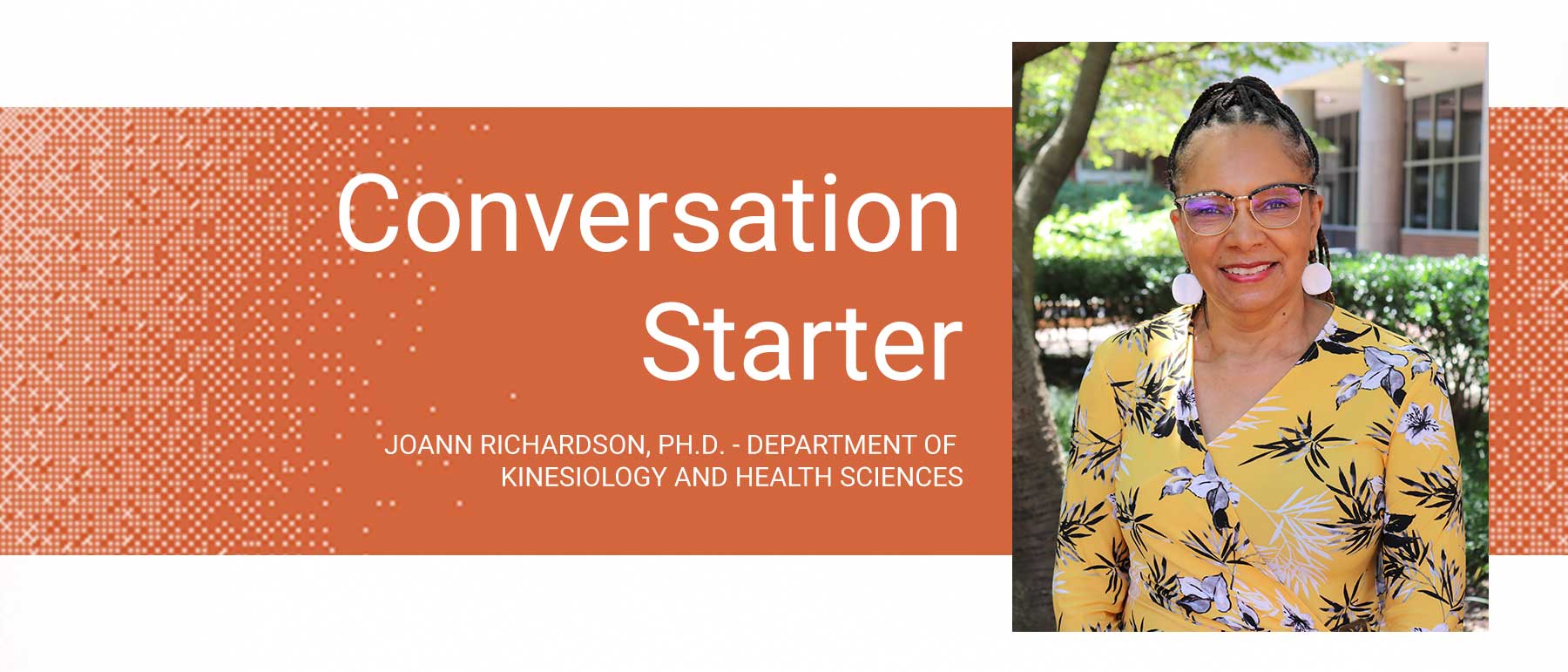 Conversation Starter
Joann Richardson has stories. As a health services professor and researcher specializing in health disparities, Richardson has spent many hours speaking with people about heavy topics – the risks of contracting HIV, the need for breast cancer and prostate cancer screenings, the lack of dental care in developing countries – and she has heard it all. "I will never forget this one particular conversation," said Richardson. "When I was collecting data for my dissertation, I was told a story about an older woman in rural Virginia who suspected that something was wrong with her breasts. Instead of seeking medical care, she bought BagBalm, a lanolin product originally used on cow's udders, and rubbed it on her breasts. Her assumption was that if it worked to heal a cow's udders, it would work to heal her breasts. Unfortunately, it was breast cancer that eventually erupted through her breast and had metastasized." The woman died from the disease. "I tell these stories to my students so they can see why it is so necessary to educate the public about preventive health measures and to understand the barriers to accessing health services. These types of experiences fuel me and my teaching and research."
Richardson first discovered her passion for health care around the dinner table. She was born into a family of nurses, whose conversations often revolved around the various illnesses observed in her small town community. "I regularly heard about the bloody and graphic details, which never really interested me," she said. "Instead I was always drawn to the why. Why do these things happen? Why do certain groups of people get sick and experience worse outcomes compared to others?" This quest to understand the why led Richardson to earn a Ph.D. in health services organization and research from the VCU Department of Health Administration and to a teaching and research career.
"I was always drawn to the why. Why do these things happen? Why do certain groups of people get sick and experience worse outcomes compared to others?"
Now an associate professor in the Department of Kinesiology and Health Sciences and past department chair, Richardson shares her experiences with her students, crafting unique opportunities for them to learn about public and community health. One of these initiatives led her to create a unique study abroad experience for students during spring break and summer. Each year, students join Richardson on trips to Jamaica where the group provides health education, health screenings and outreach for citizens living in rural communities with very limited access to health services. They also distribute basic hygiene products. "It is a life changing experience for the students, the communities we serve, and for me every time we go," Richardson said. The pandemic interrupted the annual trips, but she hopes to resume during spring break in March 2023.
Richardson's latest project is something close to her heart. It's titled "Sole2Soul: Cultural line dancing as a novel approach to improving physical activity for healthy aging in older African Americans," Richardson partnered with colleagues in the Department of Kinesiology and Health Sciences and Faika Zanjani, Ph.D., from the Department of Gerontology in VCU's College of Health Professions, in investigating whether regular participation in soul line dancing can help older African Americans increase their levels of physical activity and, thereby, improve their health and support healthy aging. "As an African American, I know that as we get older, many of us don't exercise as much as we should. However, we love to dance, which has a historical connection in the African American community and traces back to pre-emancipation and to Africa. Previous research suggests that culturally specific dances (e.g., soul line dancing) are very important to African American adults of all ages because they serve purposes related to traditional practices, cultural transmission and social acceptance, and can often be performed without a partner." Richardson hopes that the research will show significant improvements in physical health as measured by body composition, physical functional performance, cardiovascular function, metabolic function, balance, and reduced risk of falling.
No matter what she is working on, it all comes back to community and conversation. "I love connecting with people – students, community members, colleagues. We learn so much from talking, listening and observing," Richardson said. "Ultimately, this mutual exchange reveals needs and provides context for how to approach meeting those needs. My passion for the work is energized over and over by discovering how I can play a major part in making positive impacts for better health and a better quality of life for those with whom I connect."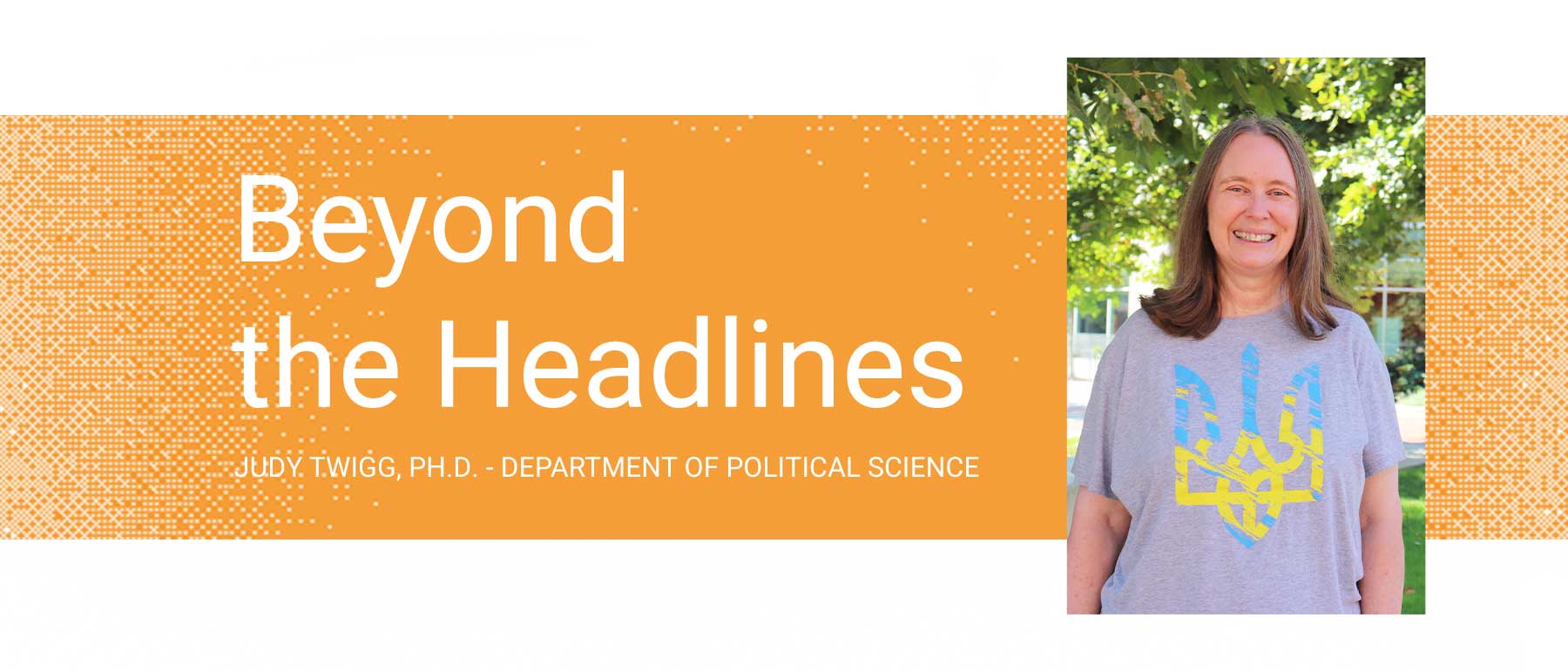 Beyond the Headlines
The war in Ukraine is on the minds of many Americans these days, but especially that of Judy Twigg, Ph.D., a professor in the Department of Political Science. Twigg specializes in global health, in particular in Russia, Ukraine and other post-Soviet countries, and she has watched the war with horror. "I did not expect this war to happen; virtually nobody did. We all thought it was a bluff up until the moment it happened," Twigg said. "This war has been devastating to the provision of health care in many parts of Ukraine. Russia has targeted hospitals and healthcare facilities as part of this war, which is an appalling violation of international law. There have been interruptions in service provisions and supply lines, combined with a shortage of physicians, especially surgeons. It's just catastrophic."
"Ukraine is the front line in the fight for democracy…This fight should be important to everyone who believes in freedom."
Twigg last visited Ukraine right before the start of the pandemic, when she was gathering data on aging populations and health care systems. It was part of a larger book project in which Twigg planned to examine health care systems across post-Soviet countries; however COVID-19 and the war put that plan on hold. "The pandemic fundamentally changed how we think about health care," said Twigg. "Before the pandemic, Russia and Ukraine were bloated at the hospital level, and they needed more emphasis on primary care and preventive measures. Then the pandemic happened and that surplus of hospital beds came in handy. Countries all over the world are wondering how to balance cost-effectiveness with the need for surge capacity. How should we conceptualize hospital planning and investment with possible future pandemics in mind?"
It was Twigg's in-depth knowledge of Russian and Ukrainian health care that made her the go-to person for analysis of Sputnik V, Russia's COVID-19 vaccine, the world's first vaccine to be approved by a national regulatory authority. "Everybody was desperate to get a vaccine, and Russia approved it though it wasn't through early stage clinical trials," said Twigg. "They had no business approving when they did, before it was ready to launch. They also had huge production hiccups at the beginning and couldn't deliver for months and months to countries counting on it." While Sputnik V was ultimately found to be effective, the mountain of bad press took its toll on the vaccine. "Even Russians would rather take a western vaccine than Sputnik V. It was a master class in how not to do vaccine diplomacy," Twigg said.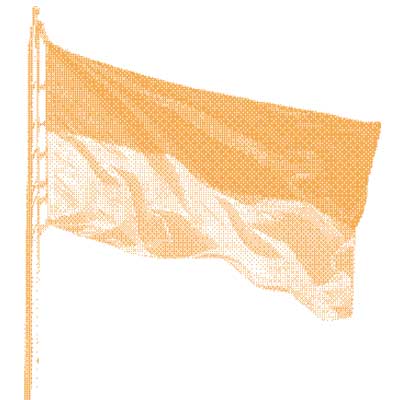 These days, Twigg has focused her energy on supporting her Ukrainian colleagues: "It's been a real priority shift for me since the war started. I am focused on supporting and amplifying the voices of my Ukrainian colleagues and partners." In the spring, VCU and the Kyiv School of Economics in Ukraine signed a memorandum of understanding that confirmed the intention of the institutions to develop collaborative activities in different academic or research areas. Twigg was an integral part of that effort. "We look forward to transforming this partnership into something very real. For now, we can identify ways to interact with colleagues at KSE and support displaced Ukrainian students and scholars while Ukraine is facing Russian aggression," Twigg said. "After the war ends, we can explore opportunities for our students, faculty and staff to go to Ukraine and for Ukrainian partners to come here, finding mutual benefit through education abroad, joint research and other initiatives."
As the war drags on, Twigg just hopes that Americans don't forget about Ukraine. "Ukraine is the front line in the fight for democracy," she said. "It is stemming the tide of authoritarian populism that's been rising across the world. This fight should be important to everyone who believes in freedom. And we have an opportunity and obligation to be there for the Ukrainian people."